College of Business faculty and graduate students attended the MBAA International conference held at the Palmer House Hilton in Chicago, Illinois, March 22-24. The theme of the conference was "Quality Higher Education in a Post-Pandemic World."
Ulrich (Ulli) Schmelzle, assistant professor of supply chain and operations management, garnered a distinguished research award for his paper: "A Research Agenda for Analytical Modeling Support for Buyers." Schmelzle's submission looks at the use of analytical tools—such as metaheuristics or simulation modeling—to support buyers in their decision-making when facing environmental changes such as economic downturns.
"This paper highlights the total cost implications for purchasing managers making contracting and inventory management decisions when considering the influence of environmental factors," said Schmelzle, the paper's principal author. This topic has so far been given little attention, he added.

The study offers a new conceptual model and a research agenda to guide future academic and managerial decision-making in complex buying situations.

In addition, Schmelzle won year's MBAA International service award for contributions as the operations management and supply chain track chair and co-program chair of the MBAA's Operations Management and Entrepreneurship Association, a position held alongside Lisa Cooley of Delta State University.
Schmelzle presented additional works, including a paper examining the purchasing function's role in buying bundled product and service solutions, and another co-authored with Michigan Tech researchers Ray Molzon (Math) and Nagesh Hatti (Enterprise Program director). This third presentation focused on cross-disciplinary experiential learning opportunities for Michigan Tech students as part of the Enterprise Program. In a student-run project titled "Decision-making in Complex Market Environments: Developing a predictive analytical model using macroeconomic factors to guide purchasing managers," the students developed a predictive analytical model to assist purchasing decision-making. In dynamic market environments, purchasing managers benefit from using data science tools to choose optimal sourcing strategies when evaluating buying scenarios. Collecting data from the semiconductor industry, the team developed a model using R and Python to predict memory-chip pricing. This ongoing multidisciplinary project allows students to apply and refine their data science skills and test the model in an applied setting.
Graduate Capstone Project Presented at MBAA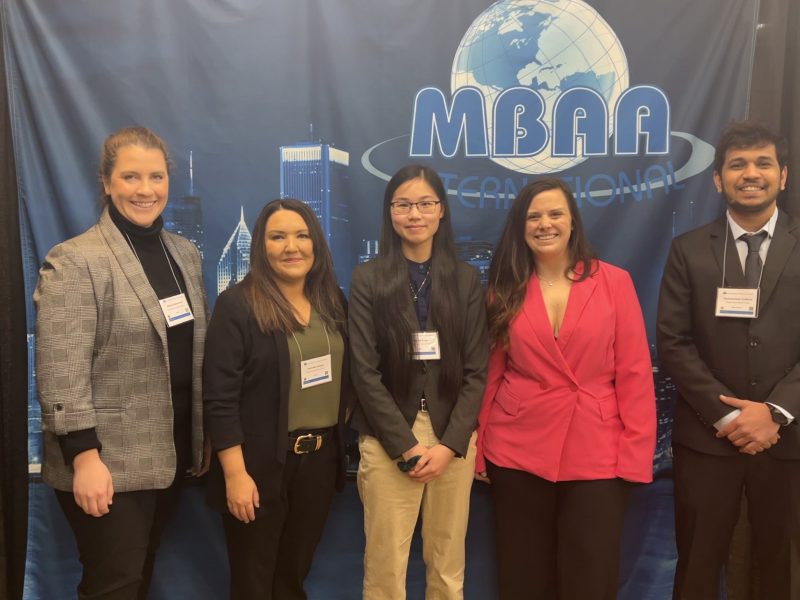 Pictured from L to R: Mareah Meulemans, Rachelle Gariepy, Kendal Kroes, Allison Reed, Dan Kulkarni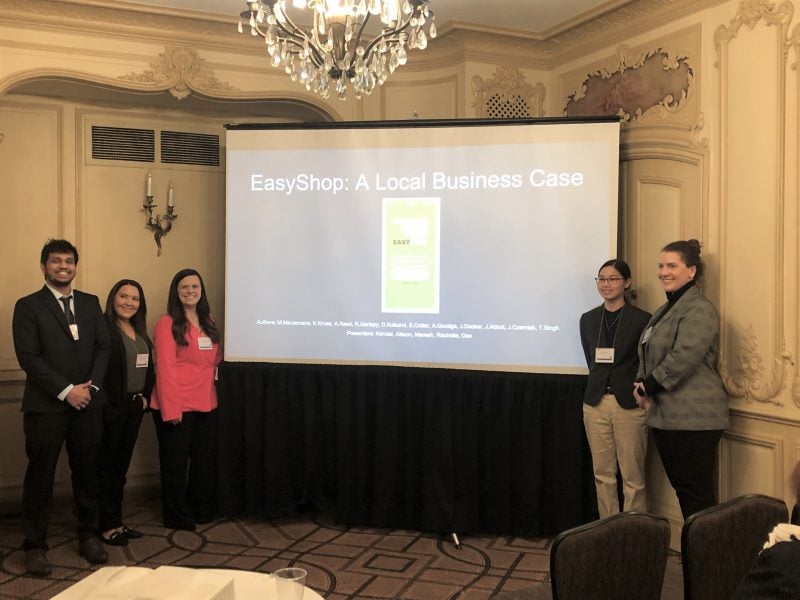 The Michigan Tech graduate student team presented their app-based concept at the international conference.
For attending graduate students—Mareah Meulemans, Rachelle Gariepy, Kendal Kroes and Allison Reed (all MBA), and Dan Kulkarni (MEM)—the MBAA Conference was a continuation of a TechMBA® and Master of Engineering Management (MEM) capstone project intended to bring Michigan Tech research to a broader audience. The Tech project—presented in the operations management and entrepreneurship association category—is an app-based service called EasyShop, a local grocery delivery concept designed to extend big-box infrastructure to smaller markets and shops.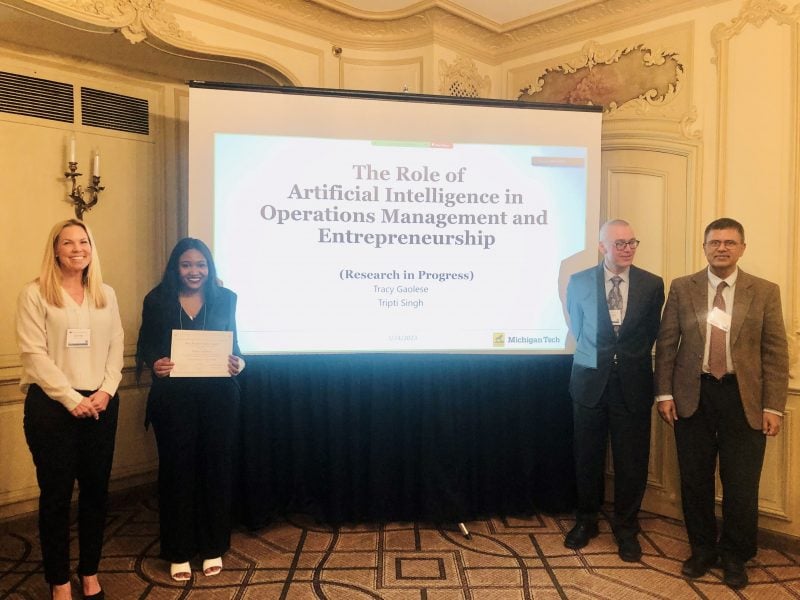 Tracy Gaolese (second from left), an international data science student from South Africa who is mentored by Tripti Singh, assistant professor of management information systems, presented their paper: "The Role of Artificial Intelligence in Operations Management and Entrepreneurship," which explores AI in operations management and entrepreneurship realms. Securing the conference's best student paper award, the study looks at automation of business processes using case study methodology to investigate companies using AI in their daily proceeds.
Conference takeaways for student attendee Kendal Kroes:
"The exposure to new software technologies while learning from people of diverse backgrounds and experience levels within the business administration field."
About the College of Business
The Michigan Tech College of Business offers undergraduate majors in accounting, business analytics, construction management, economics, engineering management, finance, management, management information systems, and marketing, as well as a general business option. Graduate degrees include the TechMBA®, a Master of Engineering Management, a Master of Science in Accounting, and a Master of Science in Applied Natural Resource Economics.