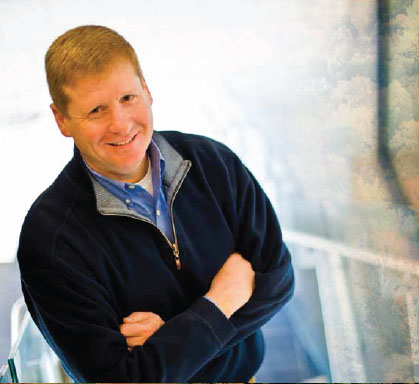 "Pure Michigan" is the slogan being used by the state to entice visitors to enjoy Michigan's many treasures. "Pure UP" is the slogan that could easily be used to describe Steve Hicks and his meteoric rise through a UP company with global impact.
Hicks grew up in Iron Mountain. Always interested in the business world, he came to the School of Business and Economics in 1979 because "Tech was a regional school with an excellent reputation."
Majoring in accounting, Hicks encountered many memorable experiences, including Professor Sam Tidwell of the red tie accounting fame. "He was an interesting and engaging man and it was always fun to be in his class."
In addition to Tidwell, Hicks was impressed with the overall quality of all the professors and his business education. "The courses were serious, thorough, and solid. I graduated knowing I had a well-grounded foundation not only in accounting but in finance and economics as well."
This foundation and his own talent and drive soon landed Hicks a job with J. M. Longyear LLC in Marquette. Longyear is a natural resources company with 165,000 acres of commercial timberlands and a large portfolio of iron ore and other mineral rights in the upper Midwest and Ontario.
Hicks began in the accounting department of Longyear, then became vice president of finance, followed by chief operating officer. In 1999, he attended a concentrated residency program for global executives at the University of Michigan School of Business. In that same year, he became CEO of Longyear.
In the past five years, Hicks has led Longyear in more than $2 billion worth of projects, including a $1.5 billion steel mill and a $350 million cellulosic ethanol facility. Cellulosic ethanol is a biofuel produced from wood, grasses, and other plant materials. The steel mill, Essar Steel Minnesota, is expected to be operational in 2012 and is North America's first iron mining through steel processing facility.
According to Hicks, Longyear is successful in a modern, global marketplace because the company continues to follow the principles that have guided the Longyear companies for more than a century: creating value, maximizing performance, leveraging opportunities, and encouraging sustainability.
Hick's own personal strategy for success is simple. "In anybody's career, you're going to encounter adversity. I think it's just a matter of working harder and working smarter. And having fun at what you do. I also had good mentors earlier in my career, people who ran global operations and were senior people in law firms."
Hick's long career at Longyear has allowed him to remain in the UP. He has been married to his wife, Shelly, for fifteen years. They have two children: Ellie, age eleven, and Collin, age eight. Living in Marquette, the family has been able to be involved in all the outdoor "Pure UP" things that Hicks loves, including hunting and downhill skiing.
Having an impact in the business world has not been enough for Hicks. He has also been a dedicated alum of Michigan Tech. Currently, he is serving on the Michigan Tech Board of Control and on the Board of Trustees of the Michigan Tech Fund, and, in the past, he was involved with the School of Forest Resources and Environmental Science advisory board.
According to Hicks, "I wanted to serve on the Boards to give back and share my experiences and knowledge to assist the University in implementing its vision and strategy. It has been rewarding working with the dedicated men and women who serve on the Board. Clearly everyone whom I've been associated with in this tenure has had Michigan Tech's best short-term and long-term interests in mind."
Looking ahead, Hicks feels very positive about Michigan Tech's future and the future of the School of Business and Economics.
"I'm very comfortable with Michigan Tech's strategy. I think it's the right strategy for the right time. Michigan Tech is involved with a lot of research and science that, given the current state of the world, will reach emerging markets. The School of Business and Economics has made strategic alignments across the University, taking an integral part in leading innovation to the next step of commercialization. Whether it is in freshwater studies or alternative energy or any other engineering or science disciplines, I'm confident that Tech will be able to help solve the world's problems and make it better."
This article was originally published in Impact, the Michigan Tech School of Business and Economics magazine.