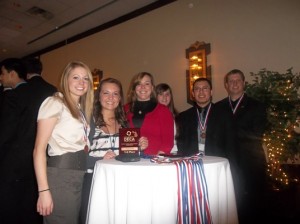 During the first weekend in February, the Michigan Tech DECA chapter made their way to Battle Creek, MI for the State Career Development Conference.  DECA prepares emerging leaders and entrepreneurs for careers in marketing, finance, hospitality, and management in high schools and colleges around the globe.  
Being the only chapter from the Upper Peninsula, it was a long 10 hour drive, but well worth it.  Competing in various events, four of the six participating members took away medals and plaques!
Michigan Tech Award Winners:
Brittany Barry, a third year Accounting major took 3rd place in the accounting competition.
Sarah Ochs and Gilbert Ramirez, third year marketing majors, both received medals, and were finalists for Marketing Management.
Cory Rokes, 5th year marketing and management major received a medal being a finalist in sales management.
Thank you to all who participated.  Way to represent our school, we couldn't be more proud!  You are a testament that student's from Michigan Tech's School of Business and Economics can apply all the necessary business skills they learn in the classroom into real-world scenarios.