Jerrid Burdue (a third year economics student) just returned from presenting his winning iOME essay in Washington DC.  Faculty adviser, Dr. Emanuel Xavier-Oliveira and the Interim Dean of the School of Business and Economics, Dr. Dean Johnson accompanied Burdue on his trip.  Jerrid discussed his proposal for improving the savings of millennials with Senator Stabenow, and met with Senator Peters to talk over his currently pending bill, THE COMPETES BILL.  This bill would increase funding for STEM research.  Burdue, Oliveira and Johnson discussed ways the School of Business and Economics could assist with the implementation of the bill. The group was also able to spend extended time with Senator Peter's key staffers that work with retirement savings where they discussed the importance of the commercialization of this research.
While in Washington, Jerrid was also featured on a panel to discuss millennial savings patterns and habits.  Other panelists included representatives from the Department of Labor, the Treasury Department, and Congressional staff from both republic and democratic parties.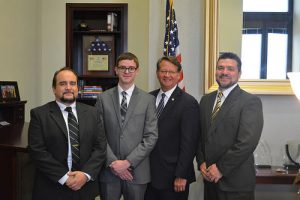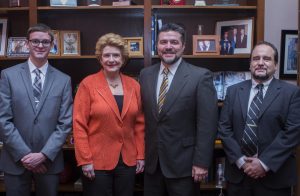 Read more about Burdue, and see his essay here.