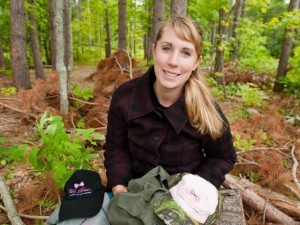 Three years ago Management major Jessica Tompkins started her own company Two Bows LLC .  Now a senior in the School of Business and Economics, Jessica needs our support!
Two Bows has been accepted by Kickstarter – an online threshold pledge system for funding creative projects– to raise funds for their Spring/Summer apparel line. She encourages everyone to follow the project, choose a reward, and pass along the word.  Two Bows only has 30 days to reach their goal of $5,000.  This money would then allow them to move forward taking the next big step to develop their company.
Jessica credits the School of Business and Economics and her classes for her growing success. Day by day she uses skills and knowledge she has gained at Michigan Tech while continuing to build the company's foundation. Two Bows has previously been funded from several resources including: business competitions, Crowdbackers crowdfunding, and non-monetary awards. These sources, combined with social media (Facebook, Twitter, Linkedin) have enabled her to market the company at a low cost.
However, in an effort to grow Two Bows, they are searching for additional funding sources to add a Spring/Summer line. This new line will supplement the products currently being sold for Fall and Winter. Jessica hopes the new line will allow Outdoorsy girls, like her, to be comfortable and look great while enjoying the hobbies they love!
By meeting their $5000 goal, Two Bows will have enough funding to create their new line, have professional photos taken, and update their website.  They only have 30 days to raise the money, and get their backers the rewards they earn in return for their funding! The rewards stack, so the more you back, the more you receive. Every donation helps!
Two Bows needs all the support it can get to reach their goal!  Let's help out one of our own, click here to read more and make a donation!