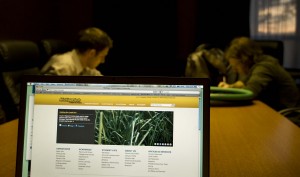 On March 30, 2012, six Michigan Tech teams will compete for $60,000 as part of the New Venture Competition. A joint partnership between Michigan Tech and Central Michigan University, the competition aims to support and promote Michigan entrepreneurship by showcasing talents and the passion of students.
Since September 2011, students have been developing and honing their entrepreneurial savvy through educational broadcasts, meetings, and mentor support to arrive at the competition in Mount Pleasant.
"Working with students to develop and push their ideas into the marketplace is one of the most innovative educations one can receive," said Darrell Radson, dean of the School of Business and Economics. "We're excited and thankful for the opportunity to partner with Central Michigan University and push entrepreneurial innovation for our state and our country."
The competition includes three rounds of single elimination presentations and is punctuated by a luncheon panel featuring entrepreneurial experts from the state of Michigan. A business pitch competition will round out the day's events and end with an awards banquet and reception.
Teams will be judged on key criteria including: quality of an idea, strength of the management team, clarity and persuasiveness of the written plan, and the oral presentation.
The competition includes a first place prize of $30,000 followed by $10,000 second place and $5,000 third place finish. Other awards also include Best Social Venture, Best Technology, Venture Shaping and a first and second place for Best Business Pitch.
Representing Michigan Tech
AsfalisMed: Travis Beaulieu and Joel Florek
Develop a medical record platform for individuals to store emergency medical information and medical history in an online profile that can be accessed by any EMS, clinic, or hospital.
Baisikeli Ugunduzi: Ben Mitchell and Wade Aitken-Palmer
Designs and produces high quality, non-puncturing bicycle components for rural people in Kitale, Kenya and serves sub-Saharan Africa.
G&A's Farmer's Market: Amber Campbell and Jeffrey Squires
A production, distribution, and retail facility for fresh produce, organic foods, and garden center products to be located in Houghton, Michigan.
Picket Books: Kyle Johnston and David Shull
A rental company that connects students around the world to facilitate peer-to-peer rental transactions for college textbooks.
Two Bows, LLC: Jessica Tompkins, Walker Derby, Shawn Peterson, and Christina Ruth
Provide women hunters with fit and functional apparel that is warm, quiet, and minimizes bulk.
Unoja Engineering: Bailey Gamble and Benjamin Savonen
Produces fluoride filitration systems that eliminate harmful pathogens by using bone char technology in Tanzania.
Stay informed of the competition progress by following #nvc2012 on Twitter or by visiting the School of Business and Economics facebook page: www.facebook.com/Businessattech.