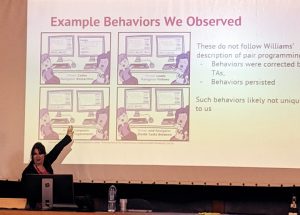 The College of Computing and the Computer Science Department were well represented at the 24th Annual Conference on Innovation and Technology in Computer Science Education  (ITiCSE 19), July 14-17, at University of Aberdeen, Aberdeen, Scotland.
Senior Lecturer Leo Ureel, along with  James Heliotis,  professor of computer science at Rochester (New York) Institute of Technology, led a working group titled, "Towards an Ability to Direct College Students to an Appropriately Paced Introductory Computer Science Course." Professor Linda Ott and Associate Professor Charles Wallace participated in the working group, "1.5 Degrees of Separation: Computer Science Education in the Age of the Anthropocene."
PhD student Briana Bettin presented her paper, "More Effective Contextualization of CS Education Research: A Pair-Programming Example," co-authored with Linda Ott and Leo Ureel.  Charles Wallace presented his poster, "A Prototype MATLAB Code Critiquer," co-authored with Leo Ureel and undergraduate computer science student Marissa Walther.  Associate Professor Jean Mayo (ICC/CyberS) presented, " Teaching Integer Security Using Simple Visualizations," co-authored with Lecturer James Walker, recent PhD graduate Man Wang, Adjunct Professor and Professor and Chair of Computer Science at Western Michigan University Steven Carr, and Professor Ching-Kuang Shene.  Also attending the conference was computer science undergraduate Miriam Eikenberry-Ureel.