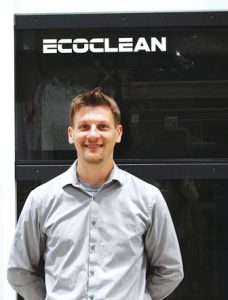 EET alumnus Aaron Zarembski was recently named one of 20 emerging leaders by Production Manufacturing magazine. The magazine's annual list recognizes professionals under the age of 40 who are making a difference in the precision machined parts industry. Selections are based on nominations received by readers of the publication. The emphasis is on leadership and potential leadership, whether in the nominee's company or their involvement in the industry.
Aaron works as a controls engineer for Ecoclean Group, a global company that supplies machinery for industrial parts cleaning and surface treatment applications. He was cited in particular for his strengths in customer service and technical knowledge. Aaron's career history also includes working with robotic waterjet cutting and plastic welding.
"Aaron is an outstanding problem solver and has been an invaluable asset for Ecoclean in every role he has taken on," said his nominator, Peter Feamster, product management director for Jomesa North America Inc. "Aaron uses patience and efficient/effective solutions in order to satisfy customers while managing enormous pressure to keep production lines operating. He has an ability to apply PLC programming knowledge to a challenging automation process," adding that Aaron is always looking at problems from a unique perspective, is great at thinking outside the box, is a natural innovator, and he is reliable, reachable and personable, as well.
View the magazine's blog post here: https://www.productionmachining.com/blog/post/2019-emerging-leader-aaron-zarembski
Read more about Aaron and the other 19 emerging leaders here: https://www.productionmachining.com/production-machinings-2019-emerging-leaders/