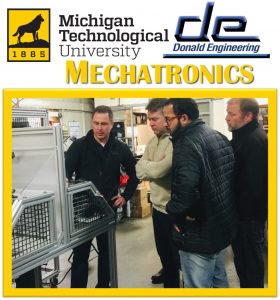 An article about the future Mechatronics Engineering Lab was included in the November 2019 issue of The Pilothouse, published by Donald Engineering, an engineering and distribution company headquartered in Grand Rapids, Michigan. The article is reproduced below.
————————————————————————————————
Michigan Tech University is currently making space for a new Mechatronics Engineering Lab that we refer to as The Mechatronics Playground. Donald Engineering is proud to be playing a big role in this Playground development. MTU Professor Alex Sergeyev, MTU Lecturer/ME Advisor Kevin Johnson, and  MTU Mechatronics students visited Donald Engineering in October to view demonstrations and to continue the process of fine-tuning these units. Several modules that DE is currently working on will be ready and delivered before the end of 2019!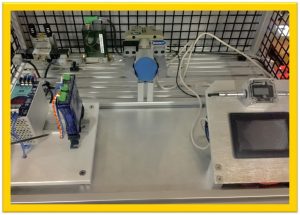 Pictured at right is the Force Sensing Module installed on a Schunk Pneumatic Gripper controlled by a Clippard Cordis closed-loop regulator. With a little math and PI calculations (as discussed in the last Pilot House issue), students will be able to measure, set, monitor, adjust, and record the force being applied by the gripper fingers to objects. This unit will help to demonstrate how much force can be or should be applied to objects in order to pick them up without damaging gripper fingers or the object itself. With this module, students will be exposed to some of the best and newest components like: