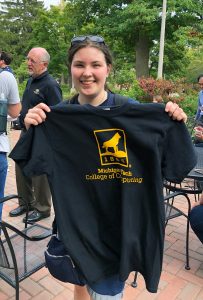 Persistence is the Key to Success … and Scholarships Really Help
Employer demand for talented computing graduates is high, and the College of Computing is helping to meet that demand through an exceptional learning experience. But sometimes students need a little extra help to persist and complete their degrees.
University faculty and staff help students persist in many ways, such as innovative and effective teaching, wide-access computing learning labs, several tiers of academic and personal support, and coursework and extra-curricular opportunities designed to build and apply knowledge and instill self-confidence.
Computing alumni have shared with us many stories about how they overcame struggles in tough courses, sticking with it instead of changing their major. Often for these alumni the thought of losing a computing major-based scholarship was an important deterrent.
Building on this idea, the College of Computing has established the Persistence in Computer Science Scholarship Fund and the Persistence in Applied Computing Scholarship Fund to help undergraduate students persist in the pursuit of their College of Computing degrees. A student's GPA will not be a major determinant in awarding this scholarship, as the goal is to encourage persistence, not perfection. The scholarship will be annually renewable for up to four years for each student, as long as recipients make satisfactory progress in their major.
Please consider making a gift to one of these scholarships, or even committing to a four-year pledge so we can encourage the persistence of many College of Computing students, now and for years to come.
Please visit mtu.edu/computing/giving to make your gift online, or phone Adam Johnson, Director of Advancement for the College of Computing, at 906-487-1087. Please indicate that your gift is designated for the CS Persistence Fund or the AC Persistence Fund.