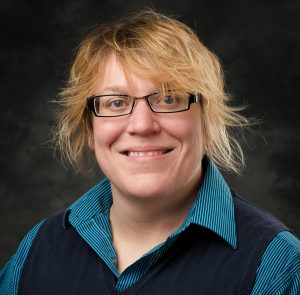 Building Adult Skills in Computing, or BASIC, is a program where anyone in the community who has questions about computers, smart phones, or tablets, can receive individual instruction. The BASIC program tutors, all Michigan Tech students, and faculty mentor Kelly Steelman, associate professor, Cognitive and Learning Sciences, were featured on the TV6 feature UPsiders on November 25, 2019.
View the video on Facebook here: https://www.facebook.com/uppermichiganssource/videos/2669673899926711/.
More about BASIC:
Since 2011, Michigan Tech students and faculty have been helping Copper Country community members improve their basic computer skills through the free tutoring program Building Adult Skills in Computing (BASIC).
The sessions take place every Saturday morning from 10:00 to 11:00 at the Portage Lake District Library, Houghton, when Michigan Tech classes are in session. Up to 15 tutors are available this semester and all community members are welcome. Computer experience is not necessary and an appointment is not required.
"As the digital revolution continues to transform our society, many older adults and other groups are being left behind," said Charles Wallace, associate professor of computer science. "Using computers, smartphones and other digital devices remains unfamiliar territory for many and it can be a source of great anxiety."
Wallace explains that through this free tutoring, the BASIC program aims to overcome this anxiety and build the computer skills and digital literacy needed for participants to effectively operate digital devices and technology and safely find the information they need.
For more information, please contact Charles Wallace (906-487-3431, wallace@mtu.edu) or Kelly Steelman, associate professor of cognitive and learning sciences (906-487-2792, steelman@mtu.edu).