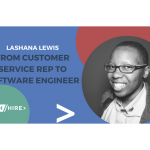 The Center for Diversity and Inclusion and the College of Computing invite College of Computing faculty and graduate students to join LaShana Lewis for a build-your-own-sandwich lunch on Tuesday, January 21, 12-1 pm, in Rekhi 218. Please RSVP here: https://forms.gle/qpPHNpfr9ktB7wyP8.
Download
Ms. Lewis is a systems engineer at MasterCard and has been working in the diversity space for over 20 years. She is currently the CEO of L.M. Lewis Consulting, a company which aims to make employer's companies more diverse through assistance with recruitment, hiring, and retention best practices.
Ms. Lewis is the keynote speaker for Michigan Tech's 31st Annual MLK Banquet the evening of Monday, January 20, 2020, at 6 pm. Please RSVP for this dinner at https://forms.gle/vVmrQSdkbAQ9KeCW8.