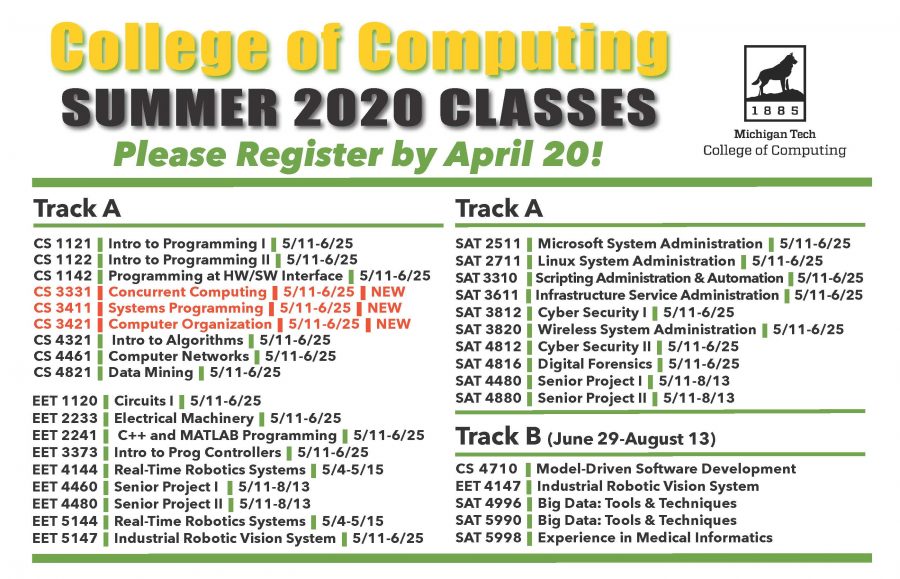 NEW CLASSES ADDED!
Students, for best course selection, please register by April 20.
Access the Summer 2020 full schedule of classes and start registration through the Registrar's website: https://www.mtu.edu/registrar/.
View undergraduate class descriptions here.
Please visit with an academic advisor if you have questions about what classes to take.
NEW CLASSES ADDED!
CS 1121 | Intro to Programming I
3 Credits | 05/11-06/25 | Instructed by: TBA
CS 1122 | Intro to Programming II
0-3 Credits | 05/11-06/25 | Instructed by: Pomerville
CS 1142 | Programming at HW/SW Interface
3 Credits | 05/11-06/25 | Instructed by: Vertanen
CS 3331 | Concurrent Computing | NEW
3 Credits | 05/11-06/25 | Instructed by: Hiebel
CS 3411 | Systems Programming | NEW
3 Credits |Instructed by: Asilioglu
CS 3421 Computer Organization | NEW
3 Credits | Track A
CS4321 | Intro to Algorithms
05/11-06/25 | Instructed by: Zhenlin Wang (Online)
CS 4461 | Computer Networks
3 Credits | 05/11-06/25 | Instructed by: Jalooli
CS 4710 | Model-Driven Software Development
3 Credits | 06/29-08/13 | Instructed by: Ebnenasir
CS 4821 | Data Mining
3 Credits | 05/11-06/25 | Instructed by: Kakula
EET 1120 | Circuits I
3 Credits | 05/11-06/25 | Instructed by: Hazaveh
EET 2233 | Electrical Machinery
4 Credits | 05/11-06/25 | Instructed by: Sergeyev
EET 2241 | C++ and MATLAB Programming
3 Credits | 05/11-06/25 | Instructed by: Hazaveh
EET 3373 | Intro to Prog Controllers
3 Credits | 05/11-06/25 | Instructed by: Sergeyev
EET 4144 | Real-Time Robotics Systems
4 Credits | 05/04-05/15 | Instructed by: Sergeyev
EET 4147 | Industrial Robotic Vision Syst
4 Credits | 06/29-08/13 | Instructed by: Sergeyev
EET 4460 | Senior Project I
3 Credits | 05/11-08/13 | Instructed by: TBA
EET 4480 | Senior Project II
3 Credits | 05/11-08/13 | Instructed by: TBA
EET 5144 | Real-Time Robotics Systems
4 Credits | 05/04-05/15 | Instructed by: Sergeyev
EET 5147 | Industrial Robotic Vision Syst
4 Credits | 06/29-08/13 | Instructed by: Sergeyev
SAT 2343 | Network Administration I
4 Credits | 05/11-06/25 | Instructed by: TBA
SAT 2511 | Microsoft System Administration
4 Credits | 05/11-06/25 | Instructed by: Arney
SAT 2711 | Linux System Administration
4 Credits | 05/11-06/25 | Instructed by: Arney
SAT 3310 | Scripting Administration & Automation
3 Credits | 05/11-06/25 | Instructed by: Arney
SAT 3611 | Infrastructure Service Administration
3 Credits | 05/11-06/25 | Instructed by: Arney
SAT 3812 | Cyber Security I
3 Credits | 05/11-06/25 | Instructed by: Cai
SAT 3820 | Wireless System Administration
4 Credits | 05/11-06/25 | Instructed by: TBA
SAT 4480 | Senior Project I
3 Credits | 05/11-08/13 | Instructed by: TBA
SAT 4812 | Cyber Security II
3 Credits | 05/11-06/25 | Instructed by: Arney
SAT 4816 | Digital Forensics
3 Credits | 05/11-06/25 | Instructed by: TBA
SAT 4880 | Senior Project II
3 Credits | 05/11-08/13 | Instructed by: TBA
SAT 4996 | Big Data: Tools & Techniques
3 Credits | 06/29-08/13 | Instructed by: Tang
SAT 5990 | Big Data: Tools & Techniques
3 Credits | 06/29-08/13 | Instructed by: Tang
SAT 5998 | Experience in Med Informatics
3 Credits | 06/29-08/13 | Instructed by: TBA