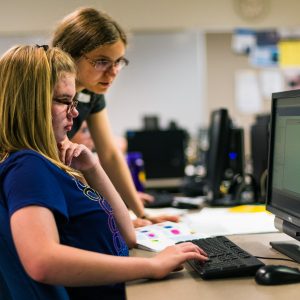 The College of Computing Department of Computer Science invites girls in grades six through 10 to join a virtual workshop in which participants will explore, design, and program web pages and data analysis programs, while tracing how data flows through our daily lives.
The free workshop will take place Monday through Friday, from 2:00 to 4:00 p.m., July 13 through August 14, via online Zoom meeting. Space is limited, so register by July 7. Prior programming experience is not necessary.
Workshop presenters are third year Computer Science undergraduate Sarah Larkin-Driscoll (pictured above), and second-year Computer Science student Miriam Eikenberry-Ureel (pictured below). Email aspire-l@mtu.edu with questions.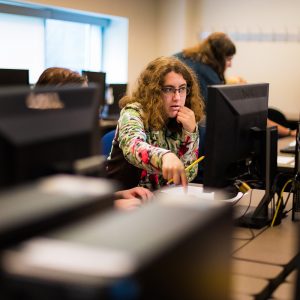 Workshop Description
Why do people collect data? How is data collected? What kinds of things can you learn from data? What is wrong with the chart on this flyer? Join us on Zoom to learn about data collection and privacy while building your own website, designing a poll, analyzing collected data, and learning about cryptography.
In the Code Ninjas workshop participants answer these questions while they:
Build their own websites
Explore how to set and remove cookies
Design a survey and learn how polling agencies choose what questions to ask
Write a program to analyze a data set and present a summary
Learn about data privacy laws
Learn about cryptography and write secret code
Learn about opportunities and careers in data science, web development, and other computing fields
Meet other girls interested in computing
Class Schedule
Week 1: Basics of Data, HTML, & Cookies
Week 2: Data Collection
Week 3: Data Analysis
Week 4: Data Storage & Encryption
Week 5: Project Week
Workshop Sponsors
The Code Ninjas Workshop is sponsored by an AspireIT grant from the National Center for Women & Information Technology (NCWIT), and facilitated by the Michigan Tech Department of Computer Science.