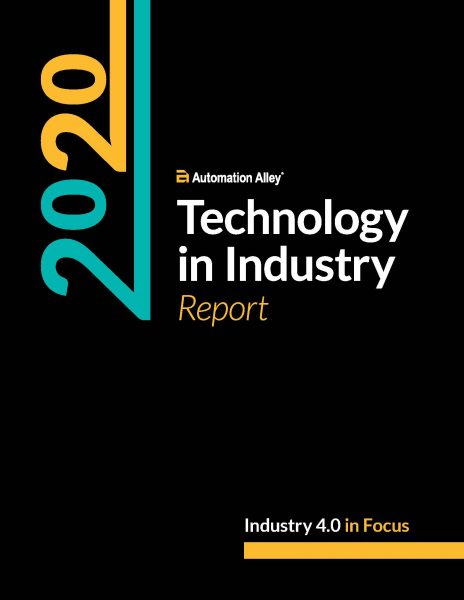 How should companies prepare in 2020 and beyond for the worldwide digital transformation and position themselves for long-term strategic success?
Automation Alley's 2020 Technology in Industry Report, "Seeing Industry 4.0 Through a 2020 Lens," recently published, explores this question in a series of new case studies and white papers that explore new trends in Industry 4.0, with the aim of helping businesses stay informed about all things digital. The articles in the report were written in collaboration with academic and industry leaders.
An article contributed by Dan Fuhrmann, interim chair of the Department of Applied Computing, "Michigan Tech Launches New College of Computing," is included in the report. View and download a PDF of the article below.
Fuhrmann's paper shares the history and rationale for Michigan Tech's new College of Computing, and discusses recent College outreach that encourages and facilitates a holistic vision of computing across the disciplines that mirrors the reality of today's Industry 4.0 workplace.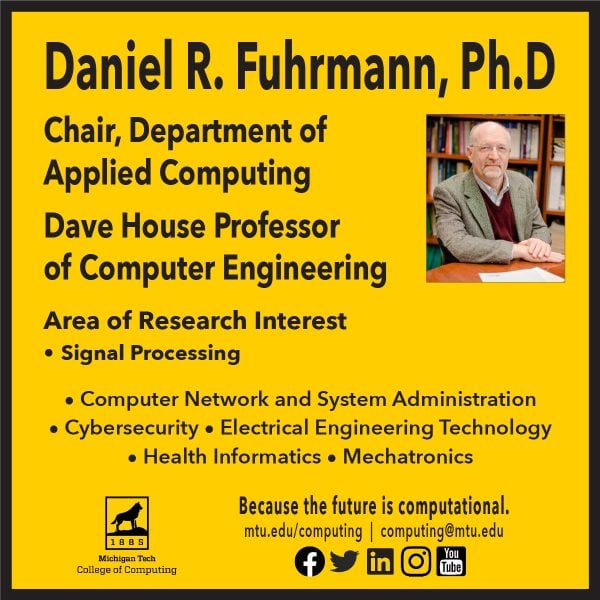 "I am impressed by Automation Alley's vision to bring Industry 4.0 thinking to manufacturers in Michigan and the upper Midwest," notes Fuhrmann. "They have identified eight key technologies that they believe will revolutionize business as we know it: artificial intelligence, big data, cloud computing, cybersecurity, modeling and simulation, robotics, the Internet of Things, and additive manufacturing." ()
"Many of these topics are being pursued in the College of Computing and elsewhere at Michigan Tech," Fuhrmann notes. "In fact, Automation Alley has a graphic depicting these technologies that I have 'borrowed' liberally for my own presentations about where we are headed."
"The opportunities associated with Industry 4.0 are enormous," agrees Adrienne Minerick, dean of Michigan Tech's College of Computing. "The technological advancements of recent decades provide industry with great opportunities for growth, but this is also a time of profound uncertainty for business leaders and the global workforce as we face new challenges, including the enormous amounts of data we are collecting, disruptive and sophisticated cyber threats, and the impact and fallout of coronavirus, the worst pandemic of our lifetimes."
The relationship between Michigan Tech and Automation Alley is also important to Michigan Tech's strategy to expand research and development at the University that enhances and supports the capabilities of the U.S. manufacturing industry, says Jacob Manchester, associate director of corporate research in the Vice President for Research office at Michigan Tech.
"In addition to the potential to solve specific challenges through direct partnerships with Automation Alley membership, the connections to these manufacturers provides valuable networking opportunities for our faculty and researchers," Manchester explains. "This can be key to building successful collaborations on federal research funding opportunities that address broader societal challenges as we embrace a future manufacturing environment defined by Industry 4.0,"
Fuhrmann says that the COO of Automation Alley, Pavan Muzumdar, visited Michigan Tech in 2019 to help facilitate early conversations about forming the College of Computing. More recently, Automation Alley has expressed interest in serving on a College of Computing external advisory board.
"There are tremendous opportunities for Michigan Tech in engaging with the Automation Alley and their network of small- and medium-sized Michigan manufacturers," Fuhrmann says. "I will continue to pursue those relationships in my role in Applied Computing and as part of the Tech Forward initiative.
Automation Alley is a World Economic Forum Advanced Manufacturing Hub (MHUB) and a nonprofit Industry 4.0 knowledge center located in Troy, Michigan.
Michigan Tech is a member of Automation Alley.
The full Automation Alley 2020 Technology in Industry Report is available for purchase and download here; an executive summary can be downloaded on the same page.