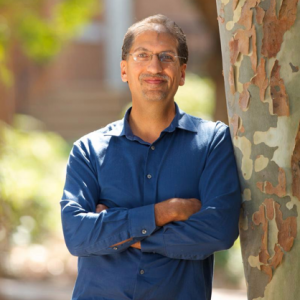 Frank Vahid will present his lecture, "Teaching intro CS: Online and in-person techniques for improved learning, cost savings, and reduced cheating," on Friday, October 23, 2020, at 3:00 p.m., online via Zoom.
Link to the Zoom meeting here.
Vahid is a professor of computer science and engineering, University of California, Riverside, and zyBooks co-founder and chief learning officer.
His research focus is on improving college-level CS/CE/STEM education, and previously (and still) on embedded systems. He is author of textbooks from Wiley, Pearson, and zyBooks on topics including C++, C, Java, data structures, digital design, computer organization, embedded systems, computing technology, introductory math, and algebra.
Vahid has received several teaching awards, including UCR Engineering's Outstanding Teacher award and UCR's Innovative Teaching award, both in 2017. In recent years, he has spoken on CS/CE education at over 50 universities across the country.
His work has been supported by the NSF (university and SBIR grants), the SRC, the U.S. Dept. of Education (university and SBIR grants), and companies such as Google and Intel. He received his B.S. in Computer Engineering from the University of Illinois at Urbana/Champaign, and his M.S. and Ph.D. in Computer Science from the University of California, Irvine.
Lecture Abstract
We describe the evolution and research findings of UCR's intro CS courses over the past decade, including an online section taught every quarter since 2013. Starting with the common U-shaped grade distribution and high DFW rate, the courses now have strong grades, low DFW rates, and highly-positive evaluations. These results are consistent across instructors, even new instructors, and also only require a few hours of teacher effort per week and little preparation each term.
The improvements include: (1) creation and use of web-native interactive learning content having hundreds of animations and interactive questions, to replace textbooks, done before class time. (2) using class time for live-coding of examples, with online classes making extensive use of live typed chat, (3) replacing the weekly programming assignment by many-small-programs, with instant auto-grading and repeated submissions, and (4) positive supportive teachers who create a "culture of mistakes".
To support the above, we started with an early OER attempt, but realizing its limitations, replaced it in 2012 by a company (zyBooks) to provide scalable growth and continual professional improvement of content and platform. That direction has grown to serve over 500,000 students at 600 universities. Our classes now build on top of the existing core to provide higher-level improvements, like new cheating prevention efforts in an era of online solutions and contract programmers, to hopefully continually improve the student learning experience and instructor teaching experience too.