---
---
by Karen S. Johnson, Communications Director, College of Computing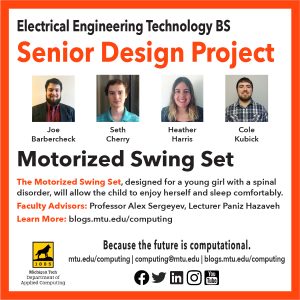 Four senior-level Electrical Engineering Technology (EET) students are working on a Senior Design project with an altruistic focus, designing and producing a motorized swing set that will help a disabled child enjoy herself and sleep comfortably.
Tackling the project top to bottom, the students are designing the electrical system, control and drive systems, and portions of the mechanical design. Their top priority is making sure the systems and mechanical structure are safe.
Read about how the students are accomplishing this complex project below.
Professor Alex Sergeyev and Lecturer Paniz Hazaveh are co-advisors to the team. "The students are very excited about the project," Sergeyev says. "It's very meaningful to them."
Specifications for the swing include that it be lightweight, reliable, and portable. The unit is battery-operated with a rechargeable lithium-ion battery. The swing will both rock the child to sleep and serve as a play toy for three to four years, although the actual lifetime of the swing will be much longer.
"The skills that we are teaching in the EET and Mechatronics undergraduate programs makes students able to just jump on these kinds of projects," Sergeyev says. "It's great to see that their learning can be applied to a project as complex as this one."
---
Joe Barbercheck, '21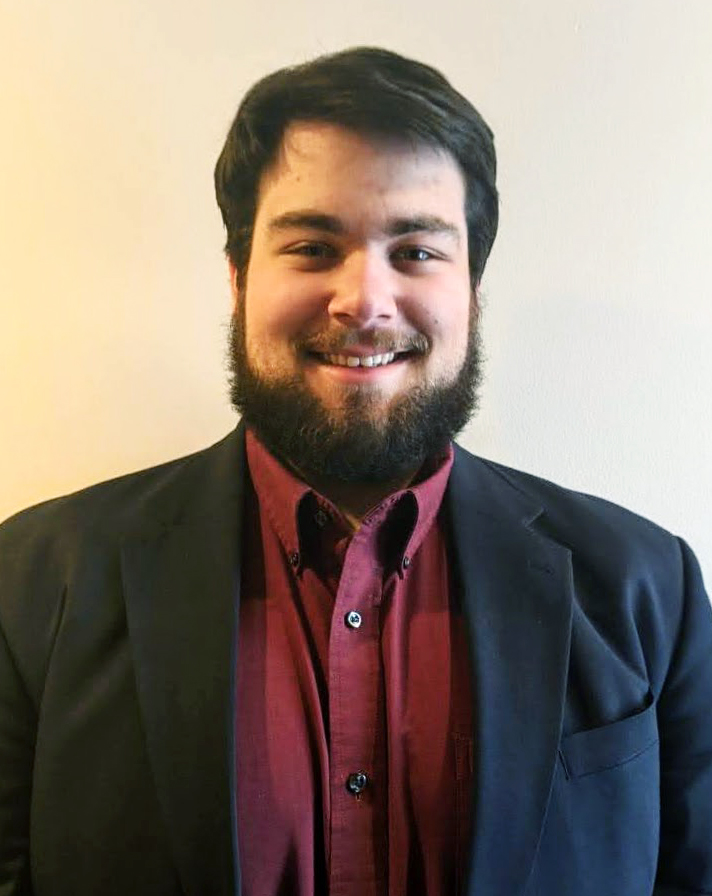 Major: Electrical Engineering Technology
Minor: Data Acquisition and Industrial Controls
Teaching Assistant for the EET department
Member and 4th-Year Representative, Student Affairs Committee, Undergraduate Student Government
Hometown: Petoskey, Mich.
For Barbercheck, the EET Senior Design project is an excellent opportunity to further hone his mechanical and electrical design skills. "Plus, we are doing a good thing for someone less fortunate," he adds.
Barbercheck says that the project has definitely upped his game in CAD, and as the project progresses, he'll need to focus on his mechanical skills in order to build any custom parts, and work on his electrical skills to help diagnose any electrical issues.
The success of that structural analysis, which came back with little to no flaws, was an especially exciting development for Barbercheck. He says that a community college class in CNC machining helped immensely with thinking mechanically at the beginning of the project.
"As we transition from mechanical design to electrical, my undergraduate MTU courses will come into play much more heavily," he predicts. "The number of circuits we have constructed in each EET class's lab, as well as knowledge gained in our electrical machinery class, will no doubt streamline the design phase of the electrical system."
"As for the most frustrating part of the project, I would have to say it is the number of times we have re-designed the model. While not hard to do in CAD, it is time consuming!" Barbercheck notes.
Barbercheck says he learns best when he can work hands-on with class material. That's why he chose the EET major. "Almost every class has a lab portion attached to it," he explains. "The small class sizes also help, as professors are able to ensure we are learning everything, and they can spot students' trouble areas easier than in larger majors."
"Professor Sergeyev and Paniz Hazaveh have been extremely helpful in providing feedback as we progress with our project," says Barbercheck. "They are ensuring that we are dotting all our i's and crossing all our t's, especially when it comes to the mechanical design."
Barbercheck intends to pursue a career in the energy industry, a topic he identifies as of extreme interest to him, and a sector in which he has completed internship experiences.
---
Seth Cherry '21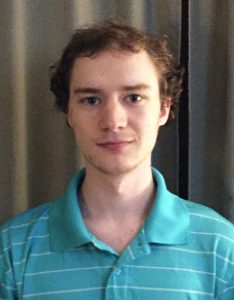 Major: Electrical Engineering Technology, 4th year
Future plans: Seek a position in research and development, or one that that will involve the programming and utilization of PLC
Seth Cherry says that the EET Senior Design project, "has allowed me to revisit and become even more familiar with CAD 3D design software, a skill I gained earlier in my tenure at MTU."
The EET team meets weekly with their advisors, Professor Sergeyev and Lecturer Paniz Hazaveh, to talk over recent developments and ideas and hear their advisors' input.
Cherry says, "This leads to improvements and further development of the overall design, as well as much more experienced eyes looking over our work to find anything that we may have overlooked that could become an issue later down the line."
"Because the EET department at MTU is fairly small, it allows for all of the students in each graduating class to network well with one another," Cherry says. "I believe that this has been very beneficial to our group, as all four of us know each other and our two advisors very well."
---
Heather Harris '21
Major: Electrical Engineering Technology
Hometown: Kingsford, Mich.
Heather Harris credits a high school pre-engineering and robotics course as the spark for her interest in the Electrical Engineering Technology (EET) degree program, because that's where she "got to design and build robots, create circuit boards, and learn a whole host of other engineering fundamentals."
And, since she's from the Upper Peninsula, Michigan Tech was the perfect place to continue on the electrical engineering path. "I chose EET in particular because it is more of a hands-on degree than EE, which is something I rather enjoy," she says.
The past three summers, Harris worked for Systems Control at their Iron Mountain location, and she currently works in the company's Houghton office. And as soon as she graduates in spring 2021, she'll start full time as an electrical testing engineer at the company's Iron Mountain location.
"I'm very excited about this project because it has a tangible impact on someone's life that I do not normally see with other projects I have worked on," says Harris.
While Harris hasn't before worked on a project exactly like this one, she feels that the Michigan Tech EET program has adequately prepared her for the challenges of managing and executing a project that requires new knowledge and skills.
"I have worked in groups, and I know how to manage my time for these projects without a set class time," Harris confirms. "Several of my classes have focused on motors as well as other programming languages, so I am not entirely unprepared to incorporate them into this project."
For Harris, the most exciting development so far has been figuring out how to make the swing move the way it should without needing the motors to run in reverse. The most frustrating part has been to find a motor that has the needed torque capabilities that will not require additional gearing and/or disassemble the motor from a different tool.
Among the skills Harris has developed further on this project are documentation and report writing. "For every report and all the accounts of what the group did, I am in charge of making sure that is accurately outlined," she explains. "I also make sure that the group has each of their own tasks for the week, and they know where to find all the information we had previously discussed."
Each individual on the team has a particular job or role, but these will change frequently through the course of the project, Harris says. Her role, however, is much more defined since she writes all the reports and keep everyone on track week-to-week.
"I have also become familiar with motors, force calculations, and other information related to how our motorized swing set will move," Harris adds. "As we continue with the project, I will need to become more familiar with programming and additional electrical work needed to make the swing run smoothly."
"Professor Sergeyev has been an incredible help throughout this project, both for feedback as well as direction for the week-to-week work," says Harris. "And since he was the one to correspond with the mother, he has the most knowledge of what we should achieve and how we need to go about this."
"Lecturer Paniz Hazaveh has also been a great help with this project," Harris adds. "She provides great feedback on the work we have completed, and sharing additional details that could be overlooked."
---
Cole Kubick '21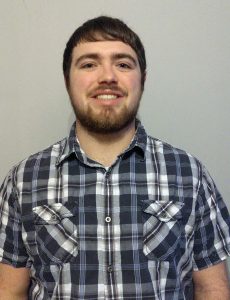 Major: Electrical Engineering Technology, 5th year
Minor: Data Acquisition and Industrial Controls
Hometown: Iron Mountain, Mich.
For Fun: Plays tuba and sousaphone in the Huskies Pep Ban for the last five years
Future Plans: On track to graduate in Spring 2021 with my BS in EET. I plan on finding a job upon graduation.
While the EET Senior Design project is meant for a specific person, Kubick notes that it addresses a notable lack in the marketplace: swing sets made to accommodate older children, and more broadly a lack of alternative options for people with a variety of disabilities.
"I also like that I am providing an option that was otherwise not available to this family," he adds.
For Kubick, investigating and learning to use the Raspberry Pi operating system and writing code in Arduino, an open-source electronics software platform, have been especially exciting. He says he finds the concepts very convenient, and he likes the simplicity of implementation. He adds that searching and selecting the motor has been the most frustrating, given the complexity of the system.
Kubick's focus is on the software, though he has also spent a fair amount of time researching software components and motors. He says he feels comfortable understanding which parts need to be researched, as well as building a presentation at the end of the semester.
"We have a general role that each person is supposed to focus towards, though we often cross roles depending on the state of the project.," Kubick says. "This allows us to individually work on different aspects of the project, while having checks and balances in place to confirm the information and choices we make. It helps eliminate errors and time waste."
"Professor Sergeyev and Lecturer Paniz Hazaveh have been a driving force in focusing our attention to specific areas of the project," Kubick says. "They are also helping to identify which parts need more time spent on its research and they're our contact with the recipient family."
Kubick started classes at Michigan Tech in fall 2016, majoring in Electrical Engineering. He recalls that when he took a required chemistry course he got a good sense of how much he prefers labs and hands-on learning over purely theoretical topics.
So, he switched to Electrical Engineering Technology, as he understood that the major was more lab-based and less theoretical. "I have been very happy with that decision," he confirms.
Kubick grew up helping his Dad, who owns an aircraft maintenance business and is very handy. He did a lot of hands-on work at that business and discovered that he enjoys finding unique answers to different problems.
---