---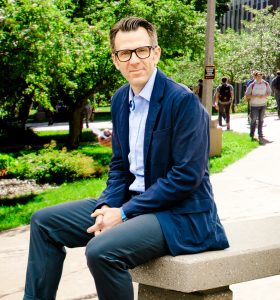 Dennis Livesay, Dave House Dean of Computing, was interviewed for two television news stories reporting on an economic roundtable held at Michigan Tech University on July 25-26, 2022.
Livesay commented on the importance of computing in today's economic landscape in interviews with WJMN TV-3 and WLUC TV-6.
State legislators meet at MTU for economic roundtable conference
UP industry, education and community leaders proposed ideas for tackling economic challenges and growth with Lower Michigan
From WLUC-TV6; by Colin Jackson; published: Jul. 25, 2022
Members of the Michigan State Legislature attended the first of a two-part economic roundtable at Michigan Tech University on Monday, July 25.
The roundtable was organized by Upper Peninsula State Sen. Ed McBroom and was joined by fellow state senators Ken Horn, Dan Lauwers, and Wayne Schmidt as well as State Representatives Sara Cambensy and Greg Markkanen.
UP industry, education and community leaders involved in the technology sector were invited to attend. These leaders presented ideas for how to handle challenges faced in local economic development.
"We needed them to hear it first-hand themselves," said McBroom. "So they can help us advocate for better policy, better state economic investment, better connectivity with the downstate industries that depend on these natural resources."
The Keweenaw Land Association and MTEC Smart Zone were among the participants.
Challenges presented included the recycling and acquisition of raw materials like nickel and relying more on electrical-based transportation.
Michigan Tech also participated with their own propositions such as the importance of funding computing and software.
"The future of everything we do, health-care, banking, entertainment is built on software," said MTU Computing Dean Dennis Livesay. "And if Michigan is going to remain economically competitive at all, we have to focus on the computing professions just as much as much as we focus on those other domains."
Legislators acknowledged the importance of these industries following the presentations.
"A lot of people forget that when we're building cars and now moving into electric vehicles," said 37th State District Sen. Wayne Schmidt. "The natural resources you need are mined here in the Upper Peninsula. And so it's really highlighting both the natural resources we have up here, and also the academic and manufacturing base."
The lawmakers will continue the roundtable on Tuesday, July 26 where the focus will be on lumber and mass-timber industries.
Watch a video of the story here.
MI legislators discuss economic development and land-based industries at two day roundtable conference
From WJMN TV-3; by Ben Raymond and Tor Thorne; Published July 25, 2022
HOUGHTON, Mich. (WJMN) – Michigan legislators who represent the Upper Peninsula have brought some of their counterparts from Lansing to the Copper Country for a two-day roundtable conference hosted by Michigan Tech.
Legislators in attendance included State Senators Ed McBroom, Ken Horn, and Wayne Schmidt, as well as 109th and 110th State Representatives Sara Cambensy and Greg Markkanen.
State Sen. Ed McBroom, who is also the Natural Resources Committee Chair, says he wanted to create an opportunity for his colleagues to get a crash course in what's being done already for economic development, specifically with land-based industries like mining and forestry. The other idea is to hear and develop ideas which they can use to create policy, which will create and retain jobs in the area.
"What are we doing long term is to make sure it's profitable to be in business in Michigan," said McBroom. "That involves how long it takes to move your industry forward, whether it's forestry or mining. What are we going to do to tie in with the auto industry and other big industries in Michigan that play such a big role in Michigan's overall economy and keep the Upper Peninsula directly opportunities tied to that."
For Michigan Tech, hosting the conference not only presented an opportunity to present their work to the legislators, but to demonstrate their commitment to economic development in the UP.
"It's in our founding charter that we're here to support the industries of the state. Early on that was in mining and timber. When Michigan became the center of the universe of the automobile industry, we pivoted to really focus on engineering, and we have world-class mechanical engineering here. We're pivoting again to focus on computing as every discipline becomes a computing discipline," said Dennis Livesay, Dave House Dean of Computing at Michigan Tech. "So the point of today and tomorrow with the legislators is to tell those stories, to let them know what we're doing here in the UP. What the economic development opportunities are for the UP, and how Michigan Tech wants to be and is a critical partner in those efforts."
A recurring subject of the presentations focused on nickel mining in the UP, and the future that mining of the metal can have in many industries including electric vehicles (EV). Currently, nickel mining in the UP constitutes about 1% of worldwide production.
"I think it's important to bring our downstate legislators up to the UP to see how we can contribute to our major economies downstate," said 109th State Representative Sara Cambensy. "There's a big push right now in the EV industry, the car industry in our state. And so letting them hear about the raw materials that actually supply the metal and everything that they need to make those vehicles, where it comes from and what these industries do for them if we connect the dots. So it's really a way of connecting what we see downstate in terms of the manufacturing with the raw materials we have here in the UP."
The representatives and senators say regardless of their party affiliation, when it comes to representing the needs and interests of the Upper Peninsula, they work together.
"To be able to get someone like Senator Ken Horn up here who chairs key committees in both appropriations and in policy up to the Upper Peninsula," said State Sen. Wayne Schmidt. "When we go to move bills forward or when we ask for money in the appropriations process. Our Downstate colleagues understand that. So we come as a unified voice. Whether it's a new project or a new policy. Whatever's needed for Northern Michigan and the Upper Peninsula, hopefully we'll be able to deliver."
These meetings are open to the public. They will pick back up on Tuesday at 9:00 a.m. and last until noon at the Memorial Union Building on Michigan Tech's campus.