---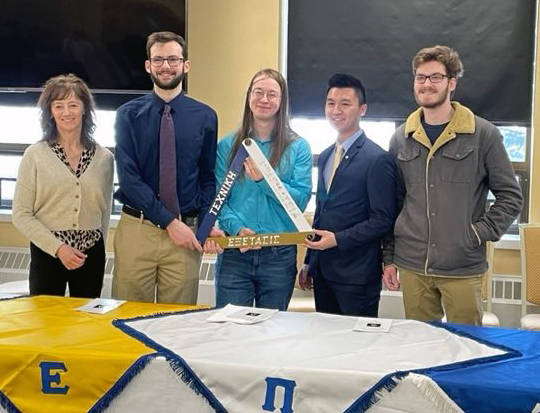 by Manufacturing and Mechanical Engineering Technology
The Department of Manufacturing and Mechanical Engineering Technology (MMET) and the College of Computing (CC) inducted four Michigan Tech students and MMET's academic advisor into Michigan Tech's Delta Zeta Chapter of the Epsilon Pi Tau Honor Society on April 6, 2023.
Epsilon Pi Tau is the international honor society for professions in technology, recognizing students and technology professionals for academic excellence.
Congratulations to the Delta Zeta Chapter Spring 2023 Epsilon Pi Tau initiates Donovan Choa and Robert Coene (mechanical engineering technology), Noah Harvey and Ryan Kern (computer network and system administration), and academic advisor Patricia Stein (MMET).
For more information, contact Delta Zeta Chapter Trustee John Irwin (MMET) at jlirwin@mtu.edu, co-trustee Todd Arney (CC) at toarney@mtu.edu, or visit Epsilon Pi Tau's website.
Epsilon Pi Tau (EPT) is the Leading International Honor Society for Technology. Epsilon Pi Tau recognizes the academic excellence of students in fields devoted to the study of technology and the preparation of practitioners for the technology professions.
Pictured are the 2023 inductees.