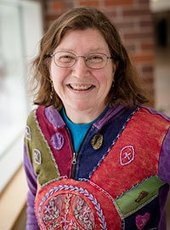 Gretchen Hein (EF), was honored at the National Science Teachers Association National Conference for her advising of the 2017 eigth-grade eCYBERMISSION National Winning Team. eCYBERMISSION is a "is a web-based science, technology, engineering, and mathematics (STEM) competition for students in grades six through nine that promotes self-discovery and enables all students to recognize the real-life applications of STEM" according to their website. The Lake Linden-Hubbell High School team was comprised of Siona Beaudoin, Beau Hakala and Gabriel Poirier, along with guidance from Ryan Knoll, a student in Chemical Engineering. Hein is advising the ninth-grade eCYBERMISSION team and they have submitted their mission folder for review and evaluation.
Mission folder judging is based mainly on application of scientific inquiry using scientific practices or engineering design process. Other criteria include benefit to the community and team collaboration. First-place national award winners receive a $5,000 U.S. Series EE Savings Bond at maturity per student.
eCYBERMISSION Mission Folder for "Whiz Kids"
Extract from Community Benefit:
Stamp sand is an abundant material in our community. Due to the mining that took place in our community there are some areas of stamp sand along Lake Superior and on Torch Lake near our town. Though the Environmental Protection Agency has remediated some areas by spreading topsoil over the stamp sands and planting plants, there are some areas still with exposed stamp sand.
When learning about stamp sands and where they are located, we took a trip to the stamp sands in the town of Gay Michigan. We looked at the vegetation that was growing on the stamp sand. This relates to our experiment because we are trying to test which type of plant will grow in the least amount of topsoil. On this trip, we saw where plants were already growing in the sands, but we also noticed that there were a lot of barren areas. The regions where plants grew where water pooled or flowed into the area bringing not only water, but nutrients too.
Our school participates in the Lake Superior Stewardship Initiative (LSSI). This program "brings together schools and community partners to prepare K-12 students to become knowledgeable citizens concerned about the Lake Superior watershed and actively engaged in stewardship projects in their community." (LSSI) Students in different science classes at our school sample water and soil as part of the Torch Lake Remediation Monitoring program.
Read more about the Whiz Kids' scientific inquiry at eCYBERMISSION.