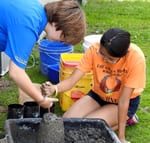 CALUMET — Members of the Whiz Kids and the Superior Remediators met Monday to complete the next step of their stamp sands experimentation, mixing cement with varying amounts of the gritty material left over from copper processing.
In June, the teams went to a competition in Washington, D.C. Afterward, they stayed a couple extra days, thanks to funding from the Lake Linden-Hubbell School Foundation, Lake Linden Lions Club and the American Legion Post 90 Auxiliary.
"The extra days were really important," said Gretchen Hein, senior lecturer in the Department of Engineering Fundamentals at Michigan Technological University (MTU), who is advising the teams with help from MTU chemical engineering student Ryan Knoll.
Read more at the Mining Gazette, by Joshua Vissers.
A new use for Stamp Sand?
In recent months the Department of Natural Resources has made attempts at saving that fishing area from the drifting sand, but they have also asked for public input to offer solutions. Three kids have accepted that challenge and are currently testing their theories.
'Their goal is to make concrete using stamp sand as part of the fine aggregate.' Said, Gretchen Hein of Michigan Technological University.
Concrete is used worldwide for building just about anything and if the stamp sand can be used in the mix, there are plenty of things that can be made with it.
Read more at ABC 10 News, by Dane Wurmlinger.
Related:
Putting Stamp Sand to Good Use, and Then Some
Vote for the Whiz Kids tonight (Thurs. June 21) by 8:30 pm
Gretchen Hein Honored for Advising eCYBERMISSION National Winning Team