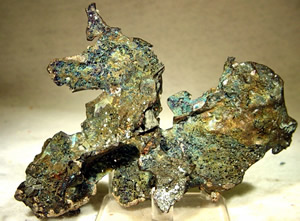 Nearly all of the world's major mineral museums have one or more donated private collections that provide the foundation upon which they build a museum collection that is greater than the sum of its parts. With a recent and most generous donation of approximately 1,000 specimens, Lance T. Hampel, president of Hampel Corporation, a Germantown, Wisconsin-based plastics manufacturing company, has provided the museum with such a foundational collection and continues to be one of its principal benefactors. Hampel previously donated more than 1,600 superb specimens in 2006 and 2007, and also supported construction of the main museum building at 1404 E. Sharon Avenue.
The following descriptions highlight some of the more significant worldwide specimens in his recent donation and are already on exhibit in the museum's Mineral Treasures Gallery. Perhaps the most significant individual specimen is a 50 cm wide by 30 cm tall group of calcite crystals from the Shullsburg, Wisconsin, lead-zinc mines, and is among the finest large calcite specimens ever recovered from the Shullsburg district. Another calcite of similar proportions from the Elmwood mine, Carthage, Tennessee, is particularly noteworthy for its size (43 cm tall) and golden color, making it a world-class specimen with considerable visual impact.
The Ojuela Mine, Mapimi, Durango, Mexico is a famous locality from which Hampel has donated a spectacular plate of yellow-green adamite crystals, 22 cm long. Trepca, Kosovo, is another well-known mining district, from which Hampel's recent donation included an excellent suite of hydrothermal vein specimens of calcite, quartz and a variety of sulfide species. Tsumeb, Namibia, has been called the finest mineral locality in the world, and is underrepresented in the museum's collection.
Since the closure of the mine, large museum-quality specimens are virtually unobtainable. This is especially true for an outstanding 23 cm specimen of bright green crystals of dioptase on white calcite in the donation, of which together with a 17 cm plate of duftite, results in a significant improvement for the museum's Tsumeb holdings.
The quality, depth and breadth of the museum's collection of crystallized native copper from the world's premier locality, the Keweenaw Peninsula, is unmatched in the world. The Hampel donation contains a significant number of attractive native copper and silver specimens from the White Pine Mine, Ontonagon County, and several are better than the many high-quality specimens already in the museum's collection.
Hampel has a long-standing personal and professional relationship with recent past curator of the museum and professor emeritus, George Robinson and past director Stanley Dyl. According to the museum's Executive Director Ted Bornhorst, "Even long past their retirements George and Stan continue to enhance the quality of the museum because of the relationships they developed with many of the museum's friends. George and Stan really deserve the principal credit for Lance's donations."