Emily Gochis, Ph.D. candidate in GMES has been appointed as the director of the MiSTEM network in Region 16 of Michigan, which covers Keweenaw, Houghton, Ontonagon, Baraga, and Gogebic counties.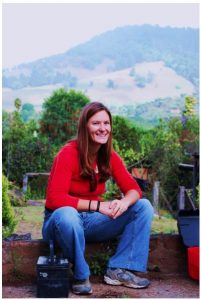 The new regional network, which replaces the Western U.P. Math and Science Center, has been established to form partnerships and strategies that promote science, technology, engineering and mathematics (STEM) education and career pathways. These careers are often difficult to experience before a student reaches college when it becomes expensive to explore different career options. Presenting K-12 students with opportunities to experience hands-on STEM applications lets them consider these careers for themselves before making a college choice.
"I'm going out and communicating with anybody and everybody that does anything with science, technology, engineering and mathematics in the region, just trying to connect with all of them in order to create these new opportunities," Gochis said.
Emily's PhD advisor, John Gierke, had this to say about the new role that Emily will have in our region's schools: "While we are certainly proud of Emily's accomplishments that led to this appointment, we are very happy for the schools of the Western Upper Peninsula and the new opportunities that Emily will facilitate." Gierke has worked with Emily since she completed her service as a Peace Corps Volunteer and notes that, "Her skills, creativity, and enthusiasm are vast. I am always amazed at her experience in teaching, research and service and how she puts those experiences together in building new educational programs and activities. We are certainly lucky that she is in this new role."
Read more at the Daily Mining Gazette
Pictured: Emily Gochis as a PCV in El Salvador, contributing to our hazards research as car-battery sherpa. The batteries are used to power monitoring equipment on the volcanoes.