A few weeks ago, this author made a Global Campus Facebook post about one of Michigan Tech's online programs. Almost immediately, one of my husband's friends sarcastically piped in: "What is this place? University of P—-ix?" At first, his comment confused me. Surely he knew that Michigan Tech, which began as a brick-and-mortar mining school, is obviously very different from that other for-profit online university. But his words also annoyed me. His tone implied that online learning is new, less credible, and less effective than traditional learning. These claims are all untrue.
Online Learning: From Correspondence Courses to MOOCs
Online learning is definitely not new; it has its roots in early distance education. In fact, you could trace its origins all the way back to 1728 when a struggling teacher, Caleb, offered to teach shorthand to students by exchanging letters. Over 150 years later, in 1892, the University of Chicago offered its first correspondence course. Then came radio-broadcasted, televised, and even phone-based courses. Admittedly, some of these first distance courses were "canned" and quite text-heavy. They involved little creativity, self-pacing, or instructor interaction. These instructor-focused courses had the goal of transmitting as much information as possible.
Both synchronous and asynchronous online learning sped up in the 1990s. Huge players such as Michigan State, CAL-Campus, and the UK's Open University blazed the way. Michigan Tech also stepped in; its current Online Hybrid Electric Vehicle Engineering Certificate, in fact, is based on a 1990's distance-learning course initially developed by Tech, General Motors, and AVL. This is just one of the online automotive programs offered by Tech.
Improvements in online learning were enhanced by e-learning and learning management systems, such as Blackboard (1997). WebCT, YouTube, and MOOCS further transformed online education. Theories of online learning and best practices for designing and teaching online courses also improved both teaching and learning experiences. For instance, Michigan Tech's own William G. Jackson Center for Teaching and Learning offers resources for designing, teaching, and reviewing online courses. Combined, these changes helped to make online education more accessible, interactive, and student-focused.
The Pandemic: Forcing a Shift
The pandemic made universities offer hybrid and online options. Students, teachers, and employers suddenly experienced the benefits of online learning. The result: more visibility and credibility for online courses. According to a recent New America poll, the belief in the quality of online learning actually increased by 16% during the pandemic.
A CNN survey also confirmed that 83 percent of the hiring executives said that an accredited online degree is as credible as one earned through a traditional on-campus program. Michigan Tech, continuously accredited since 1928, and which offers over 40 online certificates and degrees, is obviously a smart choice for your online education. And we're working hard to develop new online programs, such as the recent TechMBA® and the Public Policy Certificate.
Other Benefits of Online Learning
The reputation of online learning probably suffers from the designs of early distance courses. These mainly consisted of students working through massive mail-ordered materials and contacting their instructors only periodically. Things have definitely changed since then.
That is, research has shown that online learning is as good as and, for some students, better than face-to-face instruction. In a recently published systematic review of thirty-two studies that analyzed both online teaching and learning, the authors found no significant difference in reduced effectiveness for online courses. The study did recognize, though, that for online courses and programs to succeed, courses needed to be well-designed, provide very structured online discussions, and incorporate interactive content and timely instructor feedback.
Others have commended online courses for enhancing learning and retention. The Research Institute of America puts this increase at 25-60% more. Why? For many students, the structure, multimedia content, frequent discussions, and flexibility of online courses maintain their attention. Involved students are then more likely to keep going and not drop their programs. IBM even found that in online courses with multimedia content, students learn five times more material than those in traditional face-to-face classes. There is also the freedom of working at your own pace. That is, for those students who feel bored or rushed in a traditional classroom setting, online courses allow them to move slowly through some challenging materials while skimming easier ones.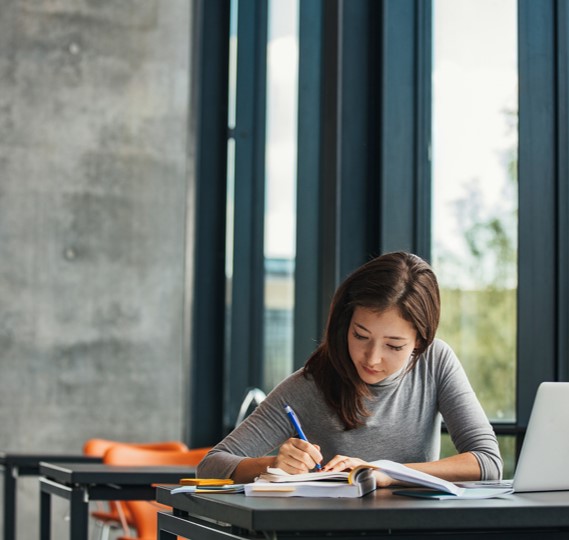 We need to bring people to learning rather than learning to people.
Rich Classroom Communities, Greener Learning
Online courses also offer the opportunity to learn from students with a plethora of perspectives, interpretations, and solutions. And, from the author's own research and experience, online courses often have this benefit: richer, more engaging discussions that include more learners, especially those who might not be as vocal in the face-to-face classroom.
And for those concerned about the environment, online learning is also the greener option. According to the Open University, students in online courses "consume 90% less energy and release 85% less CO2" than those in traditional in-person courses.
Time Management is the Key to Success
Despite its various benefits, online learning is not the easier option. Students must work hard, make a plan, and dedicate time to study. They must be self-motivated and organized. They must stay connected with other students and regularly interact with their instructors. Thankfully, Michigan Tech has several resources and even a self-paced course, which can help students tackle the challenges and receive the benefits of online programs.
As someone who has been both a student in and teacher of online courses, I'd advise that earlier guy, as well as others, to give online learning a try. Instead of having something to lose, you have a lot to gain: the flexibility and freedom to work in your own space and at your own pace; and the opportunity to learn what you love while fulfilling personal and professional goals. If you think that online learning is right for you, check out Michigan Tech's online certificates and degrees.