For your thesis or dissertation, you must either present all pages in portrait orientation, or list all of the landscape pages on the Degree completion form.  If you have many landscape pages, it may be easier to rotate the pages in the pdf than list all of the pages one by one.
This tip requires Adobe Acrobat, and applies to either a single sided or double sided document.
To start, go to the "Tools" area, select the "Pages" subsection and the "Rotate" command as highlighted in the screen shot below.  Right click on the button and select "Add to Quick Tools" to add the command to your toolbar.

Set the Direction and Rotate options as shown in the screen shot below.  Be sure to select "All" pages.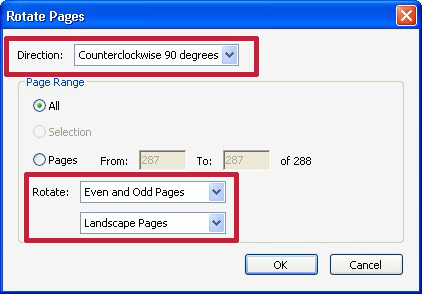 Adobe Acrobat will rotate all of the landscape pages to a portrait orientation.  Save your document and submit to the Graduate School!