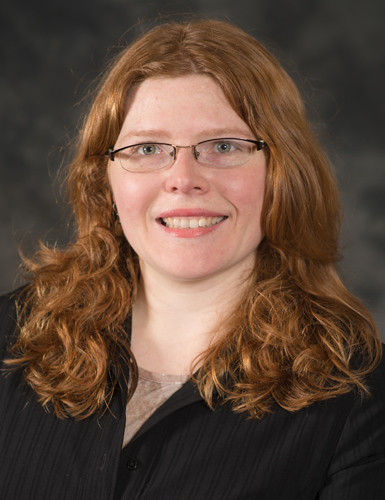 Alexandria Guth was selected by the Dean's Advisory Panel to represent Michigan Tech as a nominee for the Midwestern Association of Graduate School's Excellence in Teaching Award.  Dr. Guth was nominated by her department, Geological and Mining Engineering and Sciences.
Although her contributions to the teaching activities of her department are many, she is most known for developing and implementing novel teaching practices for online courses.  One course is taken primarily by schoolteachers, and as Dr. Pennington notes in his nomination letter, "The schoolteachers in her online courses say that she does a terrific job, and I believe them; they know what they are talking about, and are not easy to please."  This semester, she is developing an online course with a set of laboratories that can be completed off campus for introductory students in Oceanography.
Dr. Guth earned her PhD in geology in spring 2013, and was advised by Dr. James Wood. Her research has taken her to Kenya for field work, and she has had the opportunity to participate as a teaching assistant with her advisor in a series of field courses for students from Michigan Tech and beyond.  Her teaching is truly global.
Nominations are accepted each year for this award.  Please consider nominating your outstanding graduate students next year.  Full details on the nomination procedure are available online.