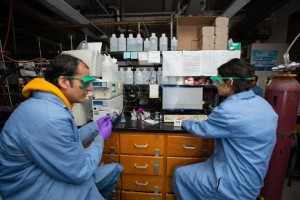 Peptides are an intriguing class of drugs. They are made of amino acids, just as humans are, and because of their intimate relationship with our own biological molecules, they have the potential to fight some of the most intractable diseases, including cancer.
But they can be difficult and expensive to make. A year's worth of the anti-HIV peptide drug enfuvirtide costs $25,000. Now a chemist at Michigan Tech has overcome an important hurdle in the manufacturing process by developing a quicker, simpler purification method. As a bonus, his technique also works on DNA.
Read the full story.
Published in Tech Today by Marcia Goodrich, magazine editor