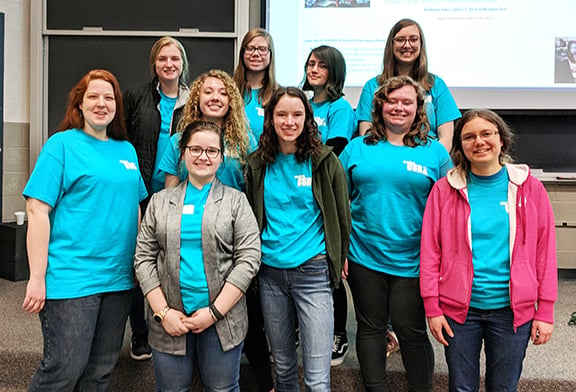 Michigan Tech hosted the workshop "Exploring Computer Science Research" last Friday – Sunday (April 5-7). The workshop was one of 15 Google has sponsored in the U.S. and was organized by four CS Faculty: Leo Ureel, Linda Ott, Jean Mayo and Laura Brown; Jean Mayo and Laura Brown are members of the ICC. The workshop was for women and underrepresented groups to explore research and graduate school opportunities in computer science.
There were 26 attendees from six universities and colleges across Michigan and Wisconsin. Over the course of the weekend each student participated in a research experience, investigating a research question with a faculty mentor. Topics included:
Machine Vision – Robert Pastel, ICC Center for Human-Centered Computing
Data Science in Energy Systems – Laura Brown, ICC Center for Data Sciences
Cybersecurity and Privacy in Storage Systems – Bo Chen, ICC Center for Cybersecurity
Agent-based Simulations in Education – Leo Ureel
Human Computer Interactions: Natural Language Processing for Assistive Technologies – Keith Vertanen, ICC Center for Human-Centered Computing
After learning about and working on their research topics, the students presented out to the group. In addition to their research experiences, attendees learned about different job opportunities after graduate school, heard how to apply to graduate schools and talked to current graduate students about the graduate school experience and their research.
Guest speakers included Niloofar Gheissari and Anja Gruenheid, two Google employees, Pushpalatha Murthy, Dean of the Graduate School and Robin Hunicke, our keynote speaker from the University of California Santa Cruz and Funomena.