---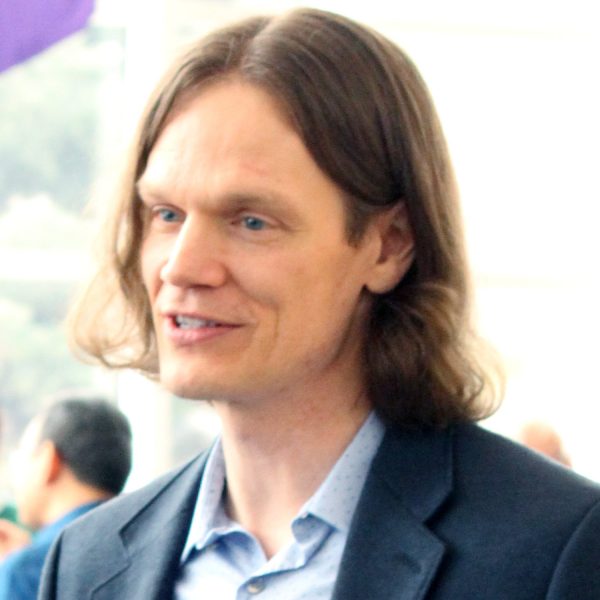 ---
by Jackson Center for Teaching and Learning
College of Computing Dean Dennis Livesay has selected Associate Professor Guy Hembroff from the Department of Applied Computing as this week's featured instructor in the Deans' Teaching Showcase.
Hembroff will be recognized at an end-of-term luncheon with other spring showcase members, and is a candidate for the next CTL Instructional Award Series.
As program director for the health informatics M.S. program, Hembroff faced difficult times during the pandemic when the program struggled with single-digit enrollments. Addressing the challenge, Hembroff modularized the health informatics curriculum and in the process provided students with new opportunities to earn multiple certificates upon graduation. In addition to the M.S. degree, students will earn the Foundation of Health Informatics graduate certificate (pending approval), and can also complete certificates in Artificial Intelligence in Healthcare, Security and Privacy in Healthcare, and/or Public Health Informatics.
Another benefit of a modularized curriculum is how it helps incoming students visualize how courses connect and create multiple entry points. For example, a student could start in a certificate-only program and then decide to pursue a full master's degree, building upon the certificate they earned.
Hembroff also restructured his courses to a hybrid modality using a flipped-classroom approach for the weekly in-class sessions last fall.
"The results were very encouraging, as student evaluations for my fall courses placed in the top 10% using the new hybrid model," said Hembroff. "This provides early positive feedback for using a course model that can be effective for both online and on-campus students."
Results of these program updates are promising. While the fall 2021 enrollment in the program was nine, fall 2022 enrollment had quadrupled to 36, with more students arriving this spring. The current enrollment in the program is more than 50 students.
"Guy has done an amazing job of reimagining the health informatics degree, while also working extremely hard to identify new students and help them come to Michigan Tech," said Livesay.
As Dan Fuhrmann, applied computing department chair, pointed out: "In addition to everything he is doing for our students in the M.S. in Health Informatics program, Dr. Hembroff is leading active research programs in medical machine learning and deep learning models, predictive health analytics, clinical decision support systems and related areas. It is exciting to imagine where this combination of cutting-edge research and graduate education for health care and computing professionals could lead."