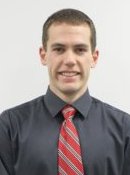 Steven Elmer, PhD
Steven Elmer joins the Department of Kinesiology and Integrative Physiology as an assistant professor. Elmer comes to Michigan Tech from the University of Maine.
Elmer received a PhD and an MS in Exercise Physiology from the University of Utah.
Prior to coming to Michigan Tech, he worked with the United States Olympic Committee. Elmer has been published in SportScience, the Journal of Biomechanics, Clinical Biomechanics and more.