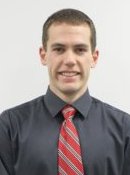 Jackson Grant Recipients Announced
Due to a generous gift from William G. Jackson, the William G. Jackson Center for Teaching and Learning (CTL) is pleased to announce the 2015 grant recipients. Nearly $55,000 in grants were awarded to instructors and teams of instructors at $1,000, $5,000 and $10,000 levels. These grants will support course/program reform or expansion projects using blended and online learning.
This year's solicitation placed special emphasis on mentoring of instructors new to blended learning, interdisciplinary collaboration, shared content, matching support, testing and assessment. A committee, assembled by the Provost and the CTL Director, reviewed many compelling grant proposals in order to select this year's grant recipients.
Assistant Professor Steven Elmer was awarded $7,567 for "Flipping KIP": A Blended Learning Approach for Kinesiology Laboratories.