Exercise Pharmacology  (EH 4990-01)
This course will bridge between basic sciences and human health.  The course focuses on understanding the 1) fundamental concept of exercise pharmacology and 2) pharmacological treatment of diseases of various systems including cardiovascular, respiratory, endocrine, neuronal, hormonal and renal systems.
Credits: 2.0
Semesters Offered: Spring
Pre-Requisite(s): BL2020 and BL2021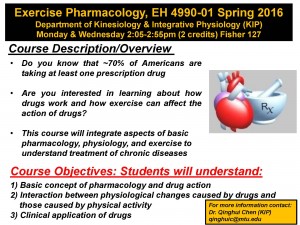 Physical Therapy Seminar (EH 4700)
Seminar for students who are interested in physical therapy profession. Course will include self-directed learning and group work. Topics may include evidence based medicine, literature review writing and evaluation, healthcare reimbursement, clincal decision making, health screenings, and other current topics. 

Credits: 1.0 
Lec-Rec-Lab: (0-1-0)
Semesters Offered: Spring – Offered alternate years beginning with the 2014-2015 academic year 
Restrictions: May not be enrolled in one of the following Class(es): Freshman, Sophomore 
Pre-Requisite(s): BL 2020 and BL 2021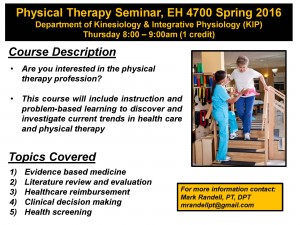 Physical Therapy Seminar_EH 4700