Epidemiolo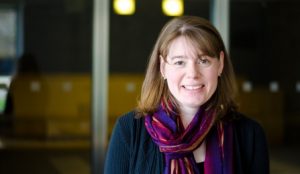 gy, what is it?  With the addition of Dr. Kelly Kamm, we will finally be able to offer students the opportunity to learn all about it.
Dr. Kamm joins the Department of Kinesiology and Integrative Physiology and The Department of Biological Sciences as a research scientist with a specialty in epidemiology and community health.
She will teach a Intro to Epidemiology course for the Spring 2017 semester.  Any undergraduate or graduate student with an interest in various professional schools including medical, PA, and PT schools are encouraged to take her course.
 Intro to Epidemiology  (EH 4990)
MWF, 12:05 – 12:55 pm

Course Description: This course is an introduction to the principles and methods of

epidemiology

to understand the distribution and determinants of health in a population. Course topics will include basic statistics used in epidemiologic studies, study design, sources and impact of error. We will use current examples to explore the use of epidemiologic data to address public health problems.
Credits: 3.0 
Pre-Requisite(s): BL 2020 and BL 2021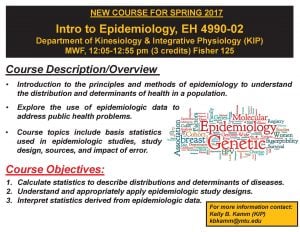 201701 Intro to Epidemiolgy EH 4990 02