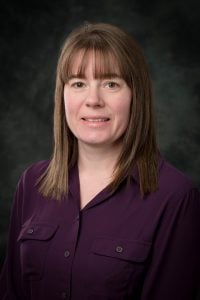 Small populations in rural areas of the Upper Peninsula mean big gaps in state health care data. Kelly Kamm's research on infant feeding seeks to bridge those gaps.
What do Beyonce, Gisele Bündchen, Mila Kunis and Blake Lively have in common? Fame and fortune, check. Breastfeeding their babies, check.
Considering these celebrities' public endorsement of breastfeeding, it might seem like breastfeeding is popular in the United States. But that's not the case. According to the Center for Disease Control and Prevention (CDC), that has been trying to raise the national rate of women breastfeeding, race and socioeconomics heavily influence if a woman ever breastfeeds. The numbers are even lower for women who breastfeed for six months and longer.
Kelly Kamm, research assistant professor in the Department of Kinesiology and Integrative Physiology is unsatisfied by the CDC's statistics. She hopes to better understand how families feed infants in the UP.
"The question 'have you ever breastfed' means, to some extent, did somebody try in the hospital, but it's not really a good metric of what's going on in the UP. We're such a small percentage of the population, any state or national data doesn't actually survey anybody up here, so there's really not much known about what's going on."

Kelly Kamm,research assistant professor
The full article, "How Do Upper Michigan Mothers Get Breastfeeding Support?" was featured in Unscripted.