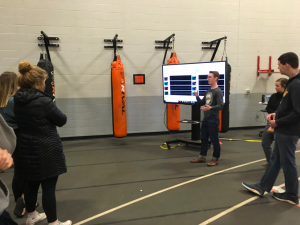 On April 10, 2019, the Department of Kinesiology and Integrative Physiology (KIP) took part in the international celebration of National Biomechanics Day by inviting local high school teachers and students to engage in fun, hands-on activities focused on biomechanics.
Ben Cockfield, Kinesiology graduate student, coordinated the event and helped organize the lab activities to coincide with this year's theme of, "Science Meets Fun on National Biomechanics Day." Students visited three separate biomechanics labs on campus and activities were presented by teams of faculty, graduate, and undergraduate students.
Carolyn Duncan's biomechanics laboratory captured students' attention with their motion analysis system by analyzing Michigan Tech basketball player, Abbie Botz's, motion while shooting a basketball. Nehemiah McIntyre, a senior Biomedical Engineering Student, helped students measure the electrical activity of their muscles with electromyography (EMG) technology and explore how varying exercises engage different muscles.Alex Gabe, kinesiology graduate student, and undergraduate students Jana Hendrickson and Lily Hart, walked students through a real-world research study in Steven Elmer's exercise physiology laboratory. This experiment helped students observe the efficiency of arm swinging during various gait patterns and put them to the test by rating their exertion during each type of gait.
Students also had the opportunity to visit the Central Michigan Doctor of Physical Therapy School on campus. Cam Williams, Site Coordinator for CMU DPT Program MTU Satellite, and Physical Therapy students Alicia Denherder and Colin Seidowski, demonstrated the importance of balance by engaging students to experiment with the various senses that affect balance while capturing their movement on force plates.
This year, graduate students Stephen Hook, Alex Gabe, and Thomas Bye, along with undergraduate students Jana Hendrickson and Lily Hart, visited physics, biology, and anatomy and physiology classrooms in Hancock as well as Chassell to bring National Biomechanics day to students. This team of students presented an interactive lever-arm model of the human elbow for the students to construct, providing a hands-on way to gain a better understanding of the mechanical systems that exist in the human body.
It is so rewarding when you observe them get that "ahh-ha!" light-bulb moment. It is outreach like this that is helping inspire the future generations of health professionals — Jana Hendrickson
Elmer's outreach team also led biomechanics activities at the high schools in Marquette, Ironwood, Iron River, Crystal Falls, Florence, Wisconsin, and Eagle River, Wisconsin.
Altogether, the outreach team reached over 300 high school students across 10 schools in the Western Upper Peninsula and Northern Wisconsin. These opportunities have been a positive experience for local schools and teachers as well as faculty and students. This outreach work is supported by grants from the Michigan Space Grant Consortium and The Physiological Society.