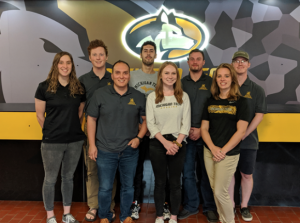 On Saturday, October 12th, eight students in the Department of Kinesiology and Integrative Physiology (1 undergraduate, 3 Masters, 4 Ph.D.) had the opportunity to travel to the University of Michigan in Ann Arbor to attend the Michigan Space Grant Consortium (MSGC) Fall Conference. This annual conference focuses on research, education, and outreach, providing both academia and industry the opportunity to share ideas in fields related to space and NASA's strategic interests. At this year's conference, Michigan Tech's unique group of KIP students were able to highlight some of the important concerns facing human systems when conducting space exploration.
"NASA's strategic plan emphasizes the complexity of systems involved in human spaceflight, but perhaps the most complex and limiting is the human body"—PhD student Jessica Bruning during their group's oral presentation on Saturday
Led by Dr. Steven Elmer as part of his Advanced Exercise Physiology class (KIP 5000), this multidisciplinary group of students possessing backgrounds in physiology, biomechanics, biology, and biomedical engineering, were able to present preliminary data and future directions for a class project looking into human locomotion under reduced gravity conditions.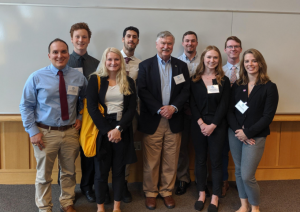 All eight students were involved in a group oral presentation, led by Ph.D. student and MSGC fellowship recipient, Josh Gonzalez, titled "Setting foot on Mars: A Big Step and Even Greater Leap for Undergraduate and Graduate Students". The presentation highlighted the class's work to determine the most energetically efficient form of locomotion on Mars and its implications for successfully carrying out a human Mars mission.
The presentation emphasized the team's diversity of educational backgrounds and how their multidisciplinary approach serves a major benefit in answering these and many other important questions when sending humans to space.
The students had the honor of meeting the keynote speaker, Dr. Tony England, a NASA astronaut who spoke about his experiences and insights during his involvement with the Apollo and Space Shuttle programs. If you've ever seen the classic 1995 film Apollo 13, then you've seen England in action. He is the real-life astronaut stationed at mission control who was tasked with engineering a make-shift carbon dioxide scrubber for the Apollo space crew, ultimately saving their lives and allowing them to return safely to Earth.
Two students, Benjamin Cockfield and Jana Hendrickson, gave individual presentations in addition to the group presentation.  Benjamin Cockfield, an MS student and MSGC fellowship recipient, gave an oral presentation discussing his research on upper body aerobic exercise with blood flow restriction and its applications to human space travel, mission success, and astronaut health.
"The purpose of my research is to discover novel modes of exercise that could be used by astronauts to help mitigate the muscle and bone loss from long term space-flight and microgravity exposure." —Benjamin Cockfield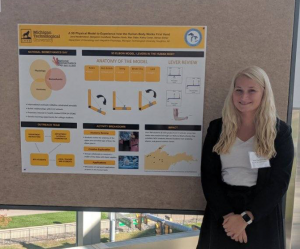 Undergraduate student Jana Hendrickson presented a poster on K-12 student outreach that utilized a 3D elbow model to help visualize how levers work in the human body.  "It was exciting to present my educational outreach poster to a diverse audience and share the importance of inspiring the next generations of researchers, scientists, and health professionals," Jana shares.
Invigorated by their experience, the group of students plan to continue their investigation into human locomotion and will be designing a harness system to simulate and test human movement in reduced gravity conditions. In addition to their MSGC presentation, the group has also applied for the Hands-On NASA-Oriented Experience for Students (HONES) grant, which could fund further research and a trip to the Johnson Space Center located in Houston, Texas.
"We have a strong group and I believe we submitted a competitive HONES application. Presenting at the Johnson Space Center would be a once in a lifetime opportunity."—PhD student Josh Gonzalez
The students who attended the MSGC Conference would like to thank Dr. Elmer for his guidance and research laboratory access, as well as Dr. Frost, the KIP department chair, and the MSGC for supporting this hands-on educational experience.
"The conference provided a great opportunity to meet and interact with professionals of many different fields, from astrophysics to geology, and gave us practice communicating our expertise across varying domains," —Isaac Wedig