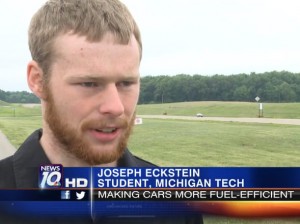 Tech Supermileage Enterprise Team Fares Well
At the recent SAE Supermileage event in Marshall, Mich., Michigan Tech's team placed sixth overall.
Below are some highlights and related links, including video footage featuring Joe Eckstein (MSE/MEEM dual major).
WILX | CBS Detroit | Facebook
Read more at Tech Today.
Students Compete to Build Fuel Efficient Cars
With gas prices in Michigan hovering around $4.29 per gallon, how does a car that can get up to 1,000 miles per gallon sound?
It's that lofty goal that has Joseph Eckstein and his team from Michigan Tech going the extra mile to build the most fuel efficientvehicle possible.
"From the ground up, we design our chassis to be aerodynamic as possible and to have the lowest rolling resistance as possible," Eckstein said.
Eckstein said he can apply what he learns at events like this to the real world.
"The skills as engineers we learn working on these vehicles do translate when we work on actual passenger vehicles for road use," he said.
The team of students from Michigan Tech were one of 25 teams from colleges across the country competing in the annul SAE International Super-mileage Collegiate Engineering Competition. Other teams from the state included University of Michigan and Calvin College.
Read more and watch the video at WILX 10 in Lansing, MI.