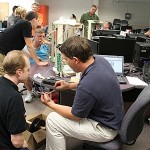 Twenty-two high school teachers from all across Michigan–including two from Houghton High School–are building their own 3D printers at Michigan Tech this week. During the 3-day workshop, the teachers will build and learn to use open source 3-D printers, which they will take back to their schools. The program was developed Joshua M. Pearce, Associate Professor, Materials Science and Engineering.
The printers are capable of printing most of their own parts–and just about anything their students can imagine.
This is the second year Michigan Tech has helped teachers build 3D printers for use in their own classrooms. Last year each 2-teacher team built one printer to share. At many of the schools, use was so high that one turned out not to be enough, so the printers were re-designed to reduce the time it takes to build them, improve printing and reliability and reduce cost. Now each teacher gets to build one of his/her own.