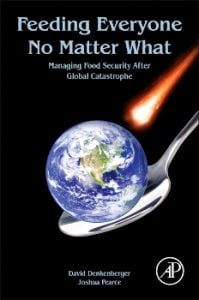 Joshua Pearce's (MSE/ECE) work on alternative foods during global catastrophes was covered in Science.
Here's how the world could end—and what we can do about it
In the end, no amount of research can do much to prevent or mitigate supervolcanoes, or other freak events such as nearby supernova explosions and cosmic blasts of gamma rays. Our only hope of surviving them is a fallback plan. And the bottom line in that plan is food.
At least two scientists have already sketched out a blueprint. In their 2015 book Feeding Everyone No Matter What, David Denkenberger and Joshua Pearce propose several ways to feed billions of people without the help of the sun.
Read more at Science, by Julia Rosen.
In Print
Joshua Pearce (MSE/ECE) co-authored an article in "Solutions" with Seth Baum and David Denkenberger of the Global Catastrophic Risk Institute titled "Alternative Foods as a Solution to Global Food Supply Catastrophes."