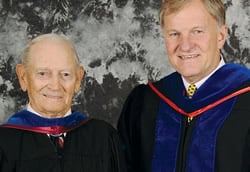 Tech's growth under Ray Smith cannot be overstated. Soon to celebrate a century, this visionary created a Husky-strong foundation that still guides us today.
Former Michigan Tech President Raymond L. Smith turns 100 years old in January. His influence reshaped the University and its direction for generations to come.
Smith became chairman of the Michigan Tech Department of Metallurgical Engineering, which quickly rose to national prominence under his leadership. After six years at Tech, he became the University's sixth president.
Read more at 2016 Michigan Tech Magazine: Issue 1, by Mark Wilcox.