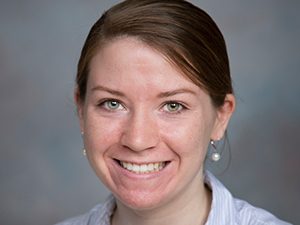 Michigan Tech alumna Amberlee Haselhuhn, who received her bachelor's of science in Materials Science and Engineering in 2011 and her PhD in '16, appears in "30 Under 30: Recognizing the future leaders of manufacturing," in SME's advancedmanufacturing.org.
Haselhuhn earned her PhD under the advisement of Joshua Pearce (MSE/ECE) and Paul Sanders (MSE).
30 Under 30: Recognizing the Future Leaders of Manufacturing
Manufacturing Engineering's 2018 Class of 30 Under 30 honorees are in a class all their own. This is the sixth year Manufacturing Engineering is recognizing 30 individuals under the age of 30 that are leading the manufacturing industry into the future. These individuals exemplify extraordinary promise in manufacturing and the STEM (science, technology, engineering and mathematics) skills that underpin the discipline, plus much more.
Amberlee Haselhuhn, Age: 29
General Motors Company, Warren, MI
Amberlee Haselhuhn may have a BS and PhD in materials science engineering as well as a BS in biomedical engineering, but that is not the path she set out on.
"I originally wanted to be a medical doctor when I started my undergraduate education in biomedical engineering, but after spending time shadowing a doctor, I realized this really wasn't for me," she said. "Around the same time, I was required to take an introduction to materials science course and absolutely loved it, so I added a BS in materials science and engineering. A summer internship with a metal casting house showed me the type of innovative work I could do with an advanced degree, and I decided to pursue my PhD."
While Haselhuhn has her name on 11 peer-reviewed publications and has delivered six conference presentations, she is not about theory alone. She also has a passion for applied research.
Haselhuhn applies the fundamentals of materials science and engineering to the joining of dissimilar materials for automotive body lightweighting. She is currently working on understanding the physics of spot welding of dissimilar metals.
The daughter of a machinist, Haselhuhn is the first in her family to earn an engineering degree or an advanced STEM degree. Perhaps because of this, she is eager to "spread the gospel" of a STEM education. Haselhuhn mentors a local all-girls FIRST Robotics team and volunteers at science festivals with the American Foundry Society's "Foundry in a Box" demonstrations.
Read more at advancedmanufacturing.org, by Candace Roulo and James Sawyer.