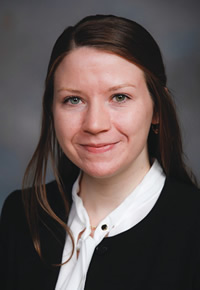 Michigan Tech alumna Amberlee Haselhuhn, who received her bachelor's of science in Materials Science and Engineering in 2011 and her PhD in '16, appears in "Industry Faces," a feature of Modern Casting.
Haselhuhn earned her PhD under the advisement of Joshua Pearce (MSE/ECE) and Paul Sanders (MSE).
Haselhuhn showing value of STEM education
Haselhuhn has worked with an all-girls First Robotics team and volunteers with AFS Foundry in a Box demonstrations through the Saginaw Valley chapter.
By doing what she has professionally, Haselhuhn is also a role model for young girls and women considering a career in STEM. That's not something she takes lightly.
"I've been surrounded by incredibly talented, smart and innovative people at General Motors and when I was at Michigan Tech. There are so many intelligent people in the world," she said. "You're always hoping to improve your skills, innovate and to continue to be the best that you can be."
Related: