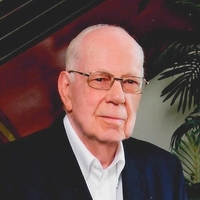 Edwin B. (Ned) Johnson passed away October 6, 2019. Prior to enrolling at Michigan Tech, he served in the U.S. Army and during World War II was captured by the German Army. He spent 7 months in a prisoner of war camp and later received the Purple Heart Medal.
Johnson graduated from Michigan Tech in 1947 with a bachelors in metallurgical engineering. After graduation, he went to work for Cleveland-Cliffs Inc. where he spent his entire career. He held numerous positions throughout the years and was named President in 1983. He served in this role until his retirement in 1986.
Johnson was recognized by Michigan Tech on several occasions. In 1971, he was awarded the Board of Control Silver Medal and in 1987, received the Alumni Association's Distinguished Alumnus award. He was inducted into the Materials Science & Engineering Academy in 1996. He was an extremely good friend of the University lending both his time and energy to numerous initiatives. He served on the Alumni Association Board of Directors and was a member of the Century II Campaign Task Force. In addition, he served as President of the Michigan Tech Fund Board of Trustees and attained Life Trustee status after serving three consecutive terms on the Board.
Johnson along with his wife Lois (who passed away in 2003), were very generous and supported numerous University programs over the years. These include the Annual Fund, the Huskies Club, the Materials Science & Engineering Department, the Rozsa Center, and several other campus initiatives. In 2008, he established the Edwin B. & Lois M. Johnson Endowed Scholarship to assist Michigan Tech students majoring in Materials Science & Engineering. Ned was recognized as a member of the Hotchkiss Society for his philanthropic support.