"Do not fear failure but rather fear not trying." — Roy T. Bennett
---
Cards Against Hypnosis by College Hypnotist David Hall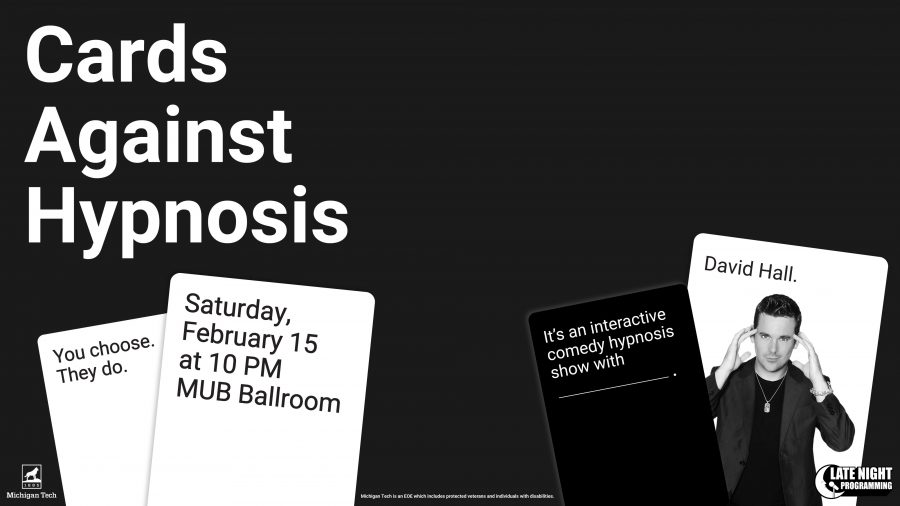 Cards Against Hypnosis
Cards Against Hypnosis is a show performed by College Hypnotist David Hall. This interactive, laugh out loud, drop-to-your knees funny, comedy hypnosis show coming to the MUB Ballroom on Saturday, February 15th at 10pm!
In between each skit, College Hypnotist David Hall will throw a ball into the crowd in which a random audience member who catches the ball will be shown 2 large cards. First is a black card with a scenario/skit, followed by a white card with possible outcomes. Based on the audience members decision that skit will be performed by the hypnotized participants on stage.
This unpredictable show gives a truly unique experience for the hypnotized participants as well as the audience. The show has been described as "jaw-dropping" "hilarious" and "downright fun."
---
Chinese Night!
The Chinese Night will be on this Friday (Jan. 31st). The Chinese Night tickets will be available from 11 to 1pm on this Monday, Wednesday and Friday at MUB commons and Library 1st floor.
On Jan. 31st, dinner will be from 5:30-6:50pm at MUB commons, and performance will be from 7-9pm.
---
Sustainability Demonstration House
Open House: MTU Sustainability Demonstration House February 6th, 4-6pm, 21680 Woodland Rd, Houghton
Stop by the MTU Sustainability Demonstration House during Winter Carnival to learn about sustainable living and housing design! There will be interactive sustainable demos, fun games, and refreshments. All guests will receive free sustainable swag!
Film Board Presents: Maleficent Mistress of Evil
This weekend, Film Board Presents:

Maleficent: Mistress of Evil

Friday, January 31st @ 5:30, 8:30, 11:30
Saturday, February 1st @ 2:30, 5:30, 8:30, 11:30
Sunday, February 2nd @ 2:30, 5:30

Located on Michigan Tech's campus in Fisher 135. Tickets are $3 and concessions are $1 each. All are welcome to attend! We hope to see you at the show this weekend and have a great day!

Maleficent: Mistress of Evil is Rated PG for intense sequences of fantasy action/violence and brief scary images
Want to see what movies we're playing next? Check out our movies and showtimes at the Film Board website: filmboard.mtu.edu
---
Spaghetti Bridge Competition
---
Bad Art Night at The Ally Makerspace
Bad Art Night at The Alley Makerspace
Friday January 31st, 5-7pm.
Join us again at The Alley Makerspace to relax before Winter Carnival by making intentionally terrible art. Bring your friends and work together to create the spiciest and strangest sculptures, drawings, and paintings. Prizes given to the worst art.
---
New Michigan Space Grant Consortium (MSGC) Scholarship
Available for Undergraduate Students
The Michigan Space Grant Consortium is offering a $500 one-time scholarship to an undergraduate student with research and innovation interests aligned with the following NASA strategic goals:
The scholarship will be available to the recipient immediately upon award and is non-renewable. Only U.S. citizens are eligible to apply for this scholarship.
Applicants should fill out this short Google form by midnight on Sunday, February 16. For more information, contact Paige Hackney in the Pavlis Honors College in M&M 722.
---
Bringing in the Bystander
You are invited to attend the Bringing in the Bystander Certification workshop happening on Saturday February 15 beginning at 9AM in the MUB Alumni Lounge A & B. Lunch will be provided. Students receive a certificate of achievement for completing the workshop, along with t-shirts and stickers! If you have any allergies or dietary restrictions, please send them to Kaylee Kapatos at kkapatos@mtu.edu. This FREE workshop is limited to a total of 50 students. Sign up before you lose your spot! Click here to get your tickets.
What is Bringing in the Bystander?
Bringing in the Bystander (BIB) is an interactive evidence based peer to peer workshop program that gives students the tools and practice needed to intervene as bystanders and to change social norming around relationship violence and sexual assault. This program helps bystanders to understand the decision making process to help them to consider their options when intervening and to build empathy for victims/survivors of relationship and sexual violence. Students leave this program with a certification of completion that they can put on their resume and swag to show their peers that they have completed BIB.
Workshop Schedule
9:00 AM – 11:45 AM – Session 1
Session One gives students a foundational understanding of bystander intervention and gives students the opportunity to learn more about how bystanders can intervene through case studies. Students identify ways that bystanders could have intervened. Peer facilitators explain statistics of relationship and sexual violence and discuss myths and assumptions surrounding violence. Much of the discussion in Session 1 focuses on how Michigan Tech students can change the culture around holding others accountable to prevent violence.
11:45 AM – 1:00 PM – Lunch
1:00 PM – 3:00 PM – Session 2
Session 2 focuses on understanding consent, building empathy for survivors and practicing bystanding skills. This session focuses on the decision making process and how to decide when and how to intervene when you see something. This session also gives students an understanding of how to be supportive if someone discloses an experience of relationship or sexual violence to them.
Please share this with anyone you think may be interested. We hope to see you there!
---
Big Foot Glowshoe 2020
---
Library Hosts Strategic Planning Discussion Groups
After receiving a tremendous response to our library strategic plan survey, the library is hosting several discussion groups. The purpose of these sessions is to discuss the gaps identified in our plan and ask for your help in setting priorities.
If you would like to be part of the discussion for improving your library, please register for one of the following sessions:
We hope you will be able to join us! Suggestions and feedback are always welcome at library@mtu.edu.
---
MUB Board- Dodgeball
Come on out and participate in a 6v6 dodgeball tournament on February 15th. The top two teams will win prizes so this is your queue to start practicing! Follow us on Instagram and Facebook to keep up to date with our latest events.
---
Saudi Night
DATE: 16 February 2020
TIME: 6.00 PM
VENUE: Memorial Union-Ballroom – Entire (207)
The Saudi Night is a cultural event that represents the Kingdom of Saudi Arabia Culture, traditions, civilization and history to the community of the university by doing Dance, acting, and traditional music.
In this event, there will be a dinner featuring sumptuous Saudi dishes mainly from Central and Southern Saudi Arabia.
Celebrate love will be our theme for this year. The storyboard about Saudi wedding traditions including some historical stories and exhibit some of our traditional clothes.
Tickets are only available online.
I also attached the poster and Ticketing link.
https://mtu.universitytickets.com/w/event.aspx?id=2155
---
Paper Airplane Trivia
Attention Student Orgs!
Want to win $500?
Please join the Michigan Tech Student Foundation for Paper Airplane Trivia in the MUB Commons on Thursday, February 27th from 7:00 – 8:30pm!
---
The International Graduate Student Communication and Cultural Center (IGSC3)
The International Graduate Student Communication and Cultural Center (IGSC3) is a free program designed to promote the success of international graduate students who speak English as a second language. International graduate students may sign up for a weekly one-hour individualized appointment with a trained coach in order to practice teaching and leading labs in a U.S. context, participating in class discussions, giving presentations, and more. Our program currently has several appointment slots available.
For more information, visit us at DHH044, email Sarah Isaacson, IGSC3 Program Director (sisaacso@mtu.edu), or visit our webpage: https://www.mtu.edu/eli/otherservices/igsc3/
---
CopperDog 2020 Volunteers
This year's CopperDog will take place February 28 – March 1.
Volunteer positions are steadily filling up but we still have some work to do to get to 100% staffed. We are expecting additional teams this year which means we need additional dog handlers throughout the weekend! If you are not interested in dog handling, but still would like to be involved, there are other volunteer opportunities available for both groups and individuals.
This year's volunteer training is scheduled for Saturday, February 22nd at 11 am in the Calumet High School cafeteria. We will have an indoor "classroom" portion of training first and then some outdoor hands-on training with teams of sled dogs.
---
Spring OAP Kayak Safety Clinics at the SDC Pool
Looking to keep your kayak skills fresh as winter tightens its grasp on us? Join the OAP in the SDC pool for Kayak Safety and Practice Sessions! There are limited spaces available for these sessions, and we will provide all necessary equipment: kayak, paddle, PFD, spray skirt. We will be working on wet exits, self recovery, rescues, and assisted rescues. We will be in the water between 4-9 feet deep, with lifeguards on duty during the event. Maximum of 8 participants per session.
No kayaking experience necessary. Participants must be at least 8 years old and able to swim at least 15 yards unassisted. Secure fitting, appropriate swimwear required (no 2 pieces or speedos).
Cost/Clinic – General Public $10, SDC members $5, Michigan Tech Students FREE!
---
Spring Session 2 Adult HuskiesFit Programs
Register Today!
Registration is open for the second spring session of the following adult HuskiesFit classes.
We have something for everyone! Commit to be HuskiesFit this spring!
---
OAP Log Rolling Clinics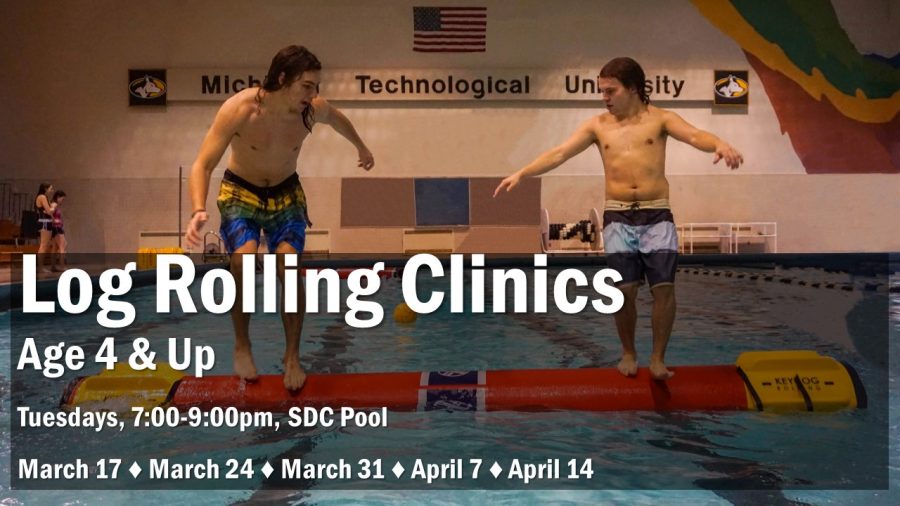 Join the OAP for log rolling clinics in the SDC Pool! We provide all instruction and materials, you just need to be able to swim at least 10 yards unassisted, and have your own swimsuit and towel. We will be in the water between 4-9 feet deep, with lifeguards on duty during the event. We will work with each participant to get up and rolling on the log before the clinic ends. This is a great sport that focuses on balance, foot speed, reaction, concentration and focus. Class size is limited.
Ages 4 & Up
Next clinic date is March 17!
Cost/Clinic – General Public $10, SDC members $5, FREE to Michigan Tech Students!