MICHIGAN TECH LODE NEWSPAPER
Featured Stories:
Page 4: Finding a way to respond to the election
Page 6: International Night
Page 10: Should we give Trump the benefit of the doubt?
Page 15: Varsity roundup
---
ENTERTAINMENT & ENRICHMENT
Khana Khazana Serving Hawaiian Cuisine
This week at the Memorial Union North Coast Grill and Deli, we are featuring a menu from Hawaii.
The menu features:
Creamy Potato Salad
Huli Huli Chicken
Fresh Corn Tomato Salad
Serving is from 11 a.m. to 1 p.m. Friday. The cost is $7.95 and include a fountain beverage.
---
Alternative Spring Break to Memphis, Applications Open
In March 2017, MTU will pair with a non-profit organization in Memphis, TN working to combat specific social issues. The trip is comprised of 18 students, including two staff advisors. Interested students can fill out an appliation here: asb-info-session-packet
---
The Alley – Makerspace Proto Night
Join us in our first Makerspace Proto Night! What can you expect? Collaboration, motivation, learning, uniting idea people with makers, meeting new people! You will be randomly paired with one other person. Pairs will chat, throw around some ideas, brainstorm, strategize, and implement a very focused prototype all in just 2 hours.
Check out more details on our official event page!
http://makerspacemtu.github.io/events/2016-12-01-proto-night.html
---
Service Opportunities
A few service opportunities are available for those here during the break and when you return from break. If you have questions about the opportunities, contact the email addresses listed within each project or email huskyhelpers@mtu.edu.
1. Jackie Froiland's family is moving to Calumet from Hancock and needs assistance moving furniture. They're seeking 4-5 people who have vehicles and can assist on Saturday, November 26. They will provide pizza for the efforts! Jackie can be reached at jackiefroiland@yahoo.com.
2. Mariah Maggio with Aspirus Keweenaw Hospital has a few multi-day projects for those willing to help in the next week or two. She is looking for someone to do some clerical tasks, a team of two individuals taking inventory of locks and keys, and someone to do a photo directory project. Mariah's contact information is Mariah.Maggio@aspirus.organd 906-337-6544.
---
CAMPUS NEWS
Interested in becoming an RA?
Housing and Residence Life is offering an RA Informational Session on Friday, December 2 from 6-7:30 p.m. in Fisher 138. Current RAs will be available to answer any questions.
Applications are due in January.  If anyone has questions, they can contact me at rljones@mtu.edu.
---
Wilderness First Responder Course Offered Through OAP
Interested in enhancing your skills in the outdoors? Become a Wilderness First Responder (WFR). The Outdoor Adventure Program will host a five-day WFR course with Wilderness Medical Associates Jan. 2-6. Course cost is $600 for Michigan Tech students and $699 for non-Michigan Tech students. Michigan Tech students can receive a 0.5 gym credit upon completion of the course.
This course covers training and practices for medical emergencies in remote or isolated locations, like the Keweenaw Peninsula and Isle Royale. This course provides participants with the knowledge to address many medical situations that may arise in the outdoors.
Certification is valid for three years and re-certification courses are offered in Houghton as well.
For more information and registration, click HERE.
---
SPORTS & WELLNESS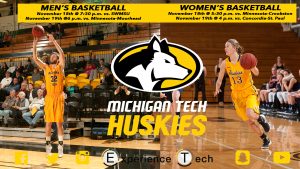 ---
CAREER SERVICES

This week in from Career Services
Graduation is right around the corner. You found all the right tools to get your degree—now it's time to get the tools you'll need to navigate life and finances after college. (And eat some snacks and maybe win some prizes too!)
Tuesday, November 29 | 12:00 PM – 1:00 PM
HUSKY TALKS
Thinking About Grad School? Career Services Can Help!
Learn how to write effective and compelling graduate school application documents, as well as strategies that'll help you get in. 20 minute presentation with lots of time for your questions.
Tuesday, November 29 | 12:10 PM – 12:50 PM OR Wednesday, November 30 | 12:10 PM – 12:50 PM
---
REMINDERS
Attention All Students Graduating in December 2016
The Michigan Tech Student Foundation (MTSF) and the Student Philanthropy Council invite you to make your upcoming commencement day even more meaningful by participating in the Class Tribute Program.  It's an opportunity for you to recognize someone special to you in the printed commencement program.
Just go to http://www.mtu.edu/classtributes  for program and participation details.  The deadline for tribute submissions is Monday, November 21, 2016.
For questions, contact Adam Portmann at 487-2542 or pjnutini@mtu.edu.