MICHIGAN TECH LODE STUDENT NEWSPAPER

https://issuu.com/michigantechlode/docs/final_02112016
---
ENTERTAINMENT & ENRICHMENT
TONIGHT- Outdoor Adventure Program Starry Night Snowshoe Hike: McLain State Park
Sign up for a guided night snowshoe hike at McLain State Park on Friday, February 12 from 6-9PM. Cost is $12 and includes snowshoes! To sign up, call OAP at 906-487-2290 or stop by their office at 207 East St. for more information.
---
Chinese Night Hosted by the Chinese Students and Scholars Association
Chinese Night for the Year of Monkey is coming up this Saturday, February 13, presented by Chinese Students and Scholars Association (CSSA.) Dinner will be served in the MUB and then performances to follow in the Rosza. The tickets are available for purchase in the MUB and Wads. The ticket selling schedule is as follows.
Event Time and location  Dinner: 5:00 – 7:00 PM MUB common area Performance: 7:30 – 9:00 PM Rozsa Center
Ticket Price  Adult: $15.00 Children under 13: $8.00 Performance only: $8.00 (will be sold at Tickets Office)
Three-round Prize Drawing during of performance. Grand prize: iPad mini 4! The ticket selling schedule: ~MUB Common Area: Friday, February 12, 11:00 AM – 2:00 PM ~In front of Wadsworth Dining Hall: Friday, February 12, 11:00 AM – 1:00 PM
---
African Night Hosted by the African Student Organization
African Night is next Saturday, February 20 at the MUB Ballroom. Tickets are selling from February 10-19 at the MUB Commons between Noon-4:00 PM. You can also email asoexec-l@mtu.edu for ticket deliveries. This years theme is African Market and there will be a variety of dishes to try from 6-8PM. Following dinner will be a live performance by Madafo Bichinis Dancers. There will also be African prints and souvenirs (clothing, jewelry, bags, etc.) for sale as well as a free photo booth where you can try on some African fashions and have your photo taken. People should come and witness the "African Market Experience."
---
Khana Khazana Serving Korean Cuisine
Korean cuisine is on the menu for Friday's Khana Khazana in the Memorial Union Foodcourt. Serving is from 11:00 AM to 1:00 PM.   The menu includes:
Beef Bulgogi : Stir fry beef marinated with Korean style sauce and served with rice.
Soegogi-muguk : One of the popular soups in Korea.
Musaengchae : Spicy Korean salad like Kimchi.
The price is $7.25 for the full meal and includes a fountain drink. Like the Khana Khazana at Michigan Tech Facebook page.
---
Winter Baja Race
The 2016 Winter Baja race presented by the Michigan Tech Mini Baja Enterprise will be this Saturday, February 13th up at the Student Development Complex. The dynamic events will start at 8am with the race starting at 11am. Spectators are encouraged to go to the wood gym where they will be directed to the designated spectator locations. For more information visit winterbaja.enterprise.mtu.edu.
---
Come Dance with Nosotros
Saturday, February 13 in the MUB Ballroom  the student organization, Nosotros, will be hosting free 
salsa lessons from 8 – 9  PM and from  
9 – 11 pm
 open floor to practice your moves. No partner is needed and it is open to all levels and to the public!
For more information contact Rachel at rmhether@mtu.edu.
---
This weekend, Film Board Presents 007: Spectre
Showtimes in Fisher 135: Friday, 2/12 – 5:30, 8:30, 11:30 PM Saturday, 2/13 – 2:30, 5:30, 8:30, 11:30 PM Sunday, 2/14 – 2:30, 5:30 PM Tickets are $3 and concessions are $1 each for candy, pop and popcorn. We hope to see you at the show this weekend, and have a great day. Also, Next week Film Board Presents: Autism in Love Monday, Feb. 15 @ 8 pm Tickets are FREE
---
Visiting Artist Rachel Kauff Explores Ecological Art Making
Michigan Technological University's Rozsa Center, The Department of Visual and Performing Arts, and The Department of Biological Sciences are excited to present a lecture and exhibition exploring the connections between art and ecology, by visiting artist Rachel Kauff. Kauff will first present a lecture, Past Use: Ecology and Art Objects, on Friday, Feb. 19 at 4:00 PM in Michigan Tech's Biological Sciences building, DOW 641. A-Space, the Rozsa Professional Gallery, will feature Kauff's work in an exhibition titled Tipping Points, February 20 – April 25. There will be an opening reception and gallery discussion in A-Space for Tipping Points on Saturday, February 20, 5:00 PM – 7:00 PM. This event is partially sponsored/funded by the Visiting Women & Minority Lecturer/Scholar Series (VWMLS) which is funded by a grant to Institutional Equity & Inclusion from the State of Michigan's King-Chavez-Parks Initiative.
---
Nice People Dancing To Good Country Music: A Fun Romantic Comedy by Tech Theatre
What's a great idea for a night out with your valentine? Join Tech Theatre as they present "Nice People Dancing to Good Country Music" in the McArdle Theatre on Thursday, February 18 – Saturday, Feb. 20 and Thursday Feb. 25 – Saturday Feb. 27, 7:30 PM. "Nice People Dancing to Good Country Music" is a play by Lee Blessing: A fun, romantic comedy, featuring a country bar-owner, a nun with a funny way of shouting out obscenities at the wrong moment, her aunt, and the hilarious, unlikely romance that unfolds. Tickets for are on sale now, $13 for adults, $5 for youth, and no charge for Michigan Tech students with the Experience Tech fee. Tickets are available by phone at (906) 487-2073, online at Rozsa.mtu.edu, in person at the Central Ticketing Office in the Student Development Complex, or at the McArdle Box Office the evening of the performance.
---
Learn Korean or Chinese with the iClub
International Club has started the Language and Culture Study Program which provides languages that Tech does not offer. Weekly Korean and Chinese lessons are happening on Tuesday and Thursday nights 6-8pm in Walker 120A, individual tutors available. Other language sessions (Thai, Portuguese, Hindi, Native American, etc) could be available upon more requests towards iclub@mtu.edu. Korean Language and Culture Study, Tuesdays (every week) from 6:00 pm to 8:00 pm at Walker 120A (the larger classroom with lots of windows when you walk into HDMZ). Chinese language and Culture Study, Thursdays (every week) from 6:00 pm to 8:00 pm at Walker 120A.
---
Free Cooking Class from Husky FAN Are you interested in learning how to create affordable, healthy meals? Join Shelley and Wesley as they prepare 2 tuna dishes and share recipes for 8 more! This cooking class is FREE and will take place Thursday February 18 at 6 PM in the Hillside Place Kitchen. Make sure to RSVP here! If you have questions, please email huskyfan@mtu.edu or checkout their website for more resources.
---
WORKSHOPS, MEETINGS & INFO SESSIONS
Erin Brown, Motivational Speaker and L
eader in the World of Body Positivity  
Erin Brown is speaking on Thursday, February 25, 2016 at 6:00 pm in Fisher 135. Erin offers a unique perspective on health and fitness that starts from within. An approach of patience and love for finding happiness with your body. For more on Erin Browns philosophy and recent blog post visit her site http://iamerinbrown.com/
---
Rail Night Hosted by Michigan Tech's Railroad Transportation Program and REAC
The night of Career Fair, Michigan Tech's Railroad Transportation Program and REAC student organization will be hosting Rail Info Night on February 16 from 7:00 PM in the DHH Ballroom. This is a fantastic opportunity to meet railroad industry representatives, or to continue conversations you may have been having with them at the SDC. This is a casual event and a great opportunity to learn more about career opportunities and internships awaiting you in the railroad industry. Come with questions, the reps will be happy to discuss them with you.The rail industry employs several majors beyond Civil and Mechanical Engineering, so come find out where you may fit into such a thriving industry.All majors are welcome to join us! Free food and pop will be provided. We hope to see you there!
---
CAMPUS NEWS
Multiliteracies Center NOW Hiring for an MTMC Undergrad Coach
If you are interested in becoming an undergrad MTMC coach, please download and fill out the application HERE. Follow the directions on page two of the application to return the document by email.  The application deadline is February 29. There will be an information meeting for people interested in being an MTMC coach on Tuesday, February 23 from 5-6 PM in Walker 107 (The MTMC).
---
FREE – Women's Business Clothing – Get ready for Career Fair
Gently worn women's business clothing and accessories will be available for Michigan Tech students at no cost. Sunday, Feb. 14, 2016 12pm-3pm Harold Meese Center (Bldg #84) at the corner of Houghton Ave and Pearl Street, across from Jim's Foodmart Donations made possible through faculty, staff, alumni and friends of Michigan Tech. Note: We are still accepting donations at the Meese Center this week, or beginning 2 hours prior to the event!
---
 $15,000 Scholarship to Study in Ireland
International Programs and Services has exciting news! Go Overseas just announced they are sponsoring TWO scholarships for students to study abroad in Ireland for a semester! One lucky undergrad and one lucky master's student are eligible to apply! The scholarship must be used during the 2016/2017 academic year (summer 2016, fall 2016, and spring 2017). All you need to do is submit a photo essay online by March 4. Link to apply: http://www.gooverseas.com/scholarships/ireland Link to FAQ's http://www.gooverseas.com/scholarships/ireland/faq For questions, email studyabroad@mtu.edu.
---
Hearing Loop System in Fisher 135
Recently, Institutional Equity and Inclusion (IEI) and Information Technology (IT) coordinated the installation of a hearing loop system in Fisher Hall, Room 135. This system allows students, employees, and community members who use hearing aids to have a greater ability to hear the content of classes, programs, and events in this room. The idea of a hearing loop system was originally brought forward by a hearing impaired student. The Calumet Theatre has a hearing loop system and this student indicated that Michigan Tech could benefit from a similar system. Funding for diversity and disability initiatives, received from The General Motors Corporation, was devoted specifically to this hearing loop system. IEI and IT worked with Hearing Loop Systems from Holland, MI to determine the best options for Michigan Tech. In the future, as new construction is designed on campus, hearing assistance systems will hopefully be incorporated. IEI would like to promote the availability of the hearing loop system on campus. If your department, group, or organization is hosting an event in Fisher 135 please include the statement "Fisher 135 is Hearing Loop equipped" in your advertising. If you have questions or feedback about the system please email equity@mtu.edu.
---
COMMUNITY NEWS
Volunteer Opportunity with CopperDog 150
Are you thinking of Volunteering for CopperDog 150?  Now is the time to sign up!  There are still plenty of tasks to be filled.  Sign up by yourself or bring your friends!!!  Are you not sure what there is to do?  Just go to 
WWW.CopperDog150.com
, sign up and choose the area you'd like to help out.  Volunteer training will be held 
Saturday February 20th
 at CLK high school in the Multi purpose room at 
10 am
.    If you have questions please just email 
Volunteer@copperdog150.com
.
Thank you again, this great race would not happen without all the Fantastic Volunteers!
---
SPORTS & WELLNESS
Body Positivity Week 2/22 – 2/25
These vents are sponsored by Wellness, Delta Zeta, Delta Phi Epsilon, Speak Up Title IX, and Girls Gone Strong. Schedule of Events: Monday, February 22: ~Love My Body Excercise, Library 12-4PM Tuesday, February 23: ~Balance and Moderation Lunch and Learn (email wmborosk@mtu.edu to RSVP), MUB Ballroom A1 12-1 ~Yoga for Every Body, SDC Studio 8:15-9:15 PM Wednesday, February 24: ~Eating Disorder Screening with Counseling Services, Relaxation Room 313 Admin Bldg 10-2PM ~Trash Your Insecurities, DOW Lobby 12-4PM Thursday, February 25: ~Guest Speaker Erin Brown, Fisher 135, 6PM "There is more to health than washboard abs. I'm here to talk about the rest of it." – Erin Brown
---
---
CAREER SERVICES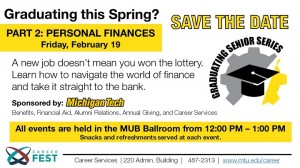 ---
---
---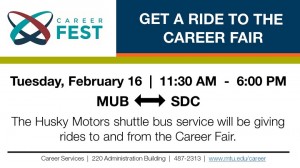 ---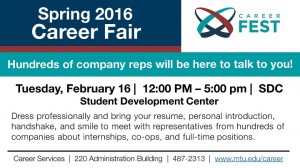 ---
REMINDERS

Nominations OPEN for the Student Leadership Awards
On behalf of the University, we are seeking nominations for the President's Award for Leadership, Vice President for Student Affairs and Advancement Award for Service, and various other student leadership awards. The recipient of each award will be honored at the 22nd Annual Student Leadership Awards Ceremony at 6:00 PM, Friday, April 15, 2016, in the Ballroom of the Memorial Union Building.
The nomination process is simple and actually quite easy. All awards and information about each can be found on the web at www.sa.mtu.edu/awards/ . For each individual award, simply click on the award title, then complete and submit the nomination form.
Nominations for the President's Award for Leadership and the Vice President for Student Affairs and Advancement Award for Service are due by 5:00 PM, Friday, March 4, 2016.
Nominations for all other Student Leadership Awards are due by 12:00 PM, Friday, March 18, 2016.
Please take a minute to nominate a student or colleague today.
Questions concerning any of the awards should be directed to Karma Kilpela, Student Activities, at 487-1963 or activities@mtu.edu .
Thank you for recognizing our best and brightest students.  Your support is appreciated.
---
DID YOU KNOW?
UP Health System at the SDC Location has Services Just for Students
While students have access to all the services that the greater community does, we have arranged to provide some common services on a walk-in basis and others with a scheduled appointment. See the website for more information.
Walk-in Services:
Abdominal pain
Allergy injections
Athletes foot
Back pain
Bladder infections
Cold and flu symptoms
Cough
Drainage of abscesses
Ear pain/infections
Fever
Headache
Insect bites
Minor burns and rashes
Musculoskeletal injuries
Poison ivy
Pregnancy tests
Seasonal allergies
Sinus infections
Sore throat
Sports medicine
STD testing
Upper respiratory infections
Urinary complaint
 Appointment Needed:
Anxiety
Depression
Minor office procedures
Nutrition services
Referral for specialty care
Travel medicine
Treatments of warts