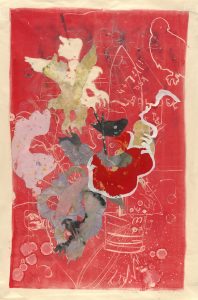 The Rozsa Center and Department of Visual and Performing Arts presents the first Rozsa A-Space Gallery show of the 2016-17 Season: Flats and Rounds, an exhibition of the work of two artists, Kathleen McCloud and Sarah Hewitt.
Flats and Rounds opens with a public reception on Friday, September 30, from 5:00 PM until 7:00 PM, and will continue through November 18. The reception is free and open to the public, and gallery hours are Monday – Friday, 8:00 AM – 8:00 PM and Saturday from 1:00 PM – 8:00 PM.
Hewitt will also create a weaving installation on-site, in the Rozsa Lobby, from October 20 – 26th. A public lecture by Hewitt to discuss her work further will be held in the Rozsa on the evening of Tuesday, October 25.
This exhibition brings together many genres of art; installation, painting, weaving, printmaking, papermaking and sculpture. Combinations, permutations and someplace in between both two-dimensional (flat) and three-dimensional (round) works of art challenge the labels the viewer places on artists and artworks. VPA Assistant Professor and A-Space gallery manager Lisa Gordillo elaborates: "Hewitt and McCloud explore single and multi-dimensional space, gender mythology, and cultural storytelling in this exhibit."
Kathleen McCloud, a visual artist currently living in Santa Fe New Mexico, works in painting, printmaking, sculpture and installation mediums. McCloud writes, "My paintings and print-based paper constructions expand upon history and the mythologizing that insinuates into the cultural story over time. I reconfigure the characters into a variety of relationships and environments to create globalized narratives that address current events and the replay of history.
The melting pot of characters is reflected in the diverse materials used to make them, which include mixed papers, fabric, plastic and wax. As in fairy tales and myths, these paper characters appear as enchanters- both ephemeral and powerful transformers. Their territory is the borderlands between the known and the unknown, raising questions about home and what it means to be connected a this time."
Sarah Hewitt is an artist who currently lives in New York but calls northern New Mexico and mid-coast Maine home. Her work has been exhibited throughout the country. Upcoming exhibitions include Kindred Beasts at the Everson Museum, and Flats and Rounds. Hewitt has received awards and residencies from the Skowhegan School of Painting and Sculpture, Vermont Studio Center, Purchase College/SUNY, Quimby Colony and Haystack Mountain School of Crafts. Hewitt describes her work this way:
She vows
To make plastic art
Redefine plastic art
To make you love plastic art
To challenge and bewitch you with what you think is formal or plastic
To make you bow to her craft
Redefine craft
To weave
To weave your mind
To weave your mind into confusion
To drag you into the sacred without your consent
For more information please contact Lisa Gordillo, Assistant Professor, Visual and Performing Arts, 906-487- 3096, lijohnso@mtu.edu.