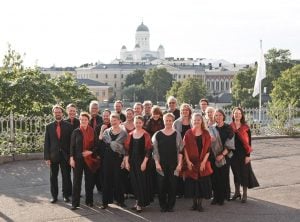 The Rozsa Center for the Performing Arts presents "State of the Union" performed by the Helsinki Chamber Choir, on Sunday, October 2, 7:30 PM.
"State of the Union" (SOTU), by Eugene Birman and Scott Diel, is a 40-minute operatic work for twelve voices, a bold new opera addressing the pressing political and environmental issues of our time.
According to the Rabbit Island Foundation, "The opera condemns no one and everyone, yet its finale doles out redemption to those open to it. SOTU is four characters – the environment, the rich, the middle class, and the poor – meeting and interacting over seven movements. It reflects a belief that many of our problems stem from how we view and treat one another. As a society we too often equate wealth with wisdom, and poverty with personal shortcomings. This work pushes forward the genre of classical music and also advances the medium to underscore a new subject: humanity's relationship to its natural environment in the context of modern society."
According to Birman, "SOTU's relationship to the very beginning of opera is quite strong, in that opera was invented as a genre for communicating revolutionary ideas. But political and conventional limitations on the form were nevertheless too limiting, so it was quickly subsumed into 'music as entertainment'. SOTU is commentary on that role, for while the piece will be entertaining, I see its purpose as bringing opera back to what it was meant to be… as a Gesamtkunstwerk with a specific purpose, not just one that brings together art forms for the delight of audiences. I think that the genre needs this shake-up because it has, with each new addition, become more and more anachronistic and baroque—ultimately, irrelevant and silly."
The opera was conceive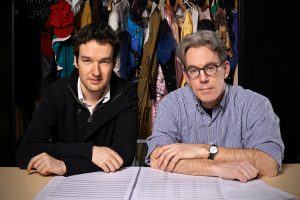 d in 2015 while Juilliard-trained composer Eugene Birman and librettist Scott Diel spent sixteen days on Rabbit Island. Part opera seria, part satire, SOTU considers environmental crisis, economic inequality, and the general obliviousness of society's confused march forward.
The Helsinki Chamber Choir is the leading vocal group from Finland, and one of the most notable contemporary choirs in all of Europe. Rabbit Island, a 91 acre forested island in Lake Superior three miles east of Michigan's Keweenaw Peninsula, is held under a conservation easement granted by the Keweenaw Land Trust, and supports programs fostering science, art, preservation and recreation. Rabbit Island is a laboratory for artists to consider the modern relationship between art and the environment, and this is what Birman and Diel have done.
Birman and Diel will present their work, State of the Union (SOTU), in its world premier tour first in Marquette, Michigan, on the campus of Northern Michigan University, then on to the Rozsa Center for the Performing Arts in Houghton, MI then Interlochen, Michigan, and culminating in New York City. SOTU has been brought to life thanks to generous support from the Rabbit Island Foundation, Northern Michigan University's Northern Nights concert series, DeVos Art Museum, the Finlandia Foundation, the Finnish Cultural Foundation, and the U.P. Beaumier Heritage Center.
We are particularly excited to welcome the Helsinki Chamber Choir to the Upper Peninsula of Michigan where a large percentage of residents can trace their roots back to Finnish immigrants.  In the U.P. we proudly celebrate Finnish language, culture, sauna, surnames and, of course, sisu.
The Helsinki Chamber Choir (Helsingin kamarikuoro) was founded in 1962 as the Finnish Radio Chamber Choir and assumed its current name in 2005. It is currently Finland's only professional chamber choir. The choir's Artistic Director from 2005–2007 was Kimmo Hakola. Since 2007 Nils Schweckendiek has been responsible for the group's artistic planning. While its wide-ranging repertoire includes music from the Renaissance to the present day, the Helsinki Chamber Choir is particularly highly regarded for its work with new music. The choir regularly commissions new works and has given over 50 world premieres in the seasons since 2005, as well as more than 30 Finnish first performances. The choir appears frequently at major Finnish music festivals and collaborates with orchestras and Baroque and contemporary music ensembles. Recent touring has included concerts in Russia, Estonia and Belgium.
The Helsinki Chamber Choir's concerts are regularly broadcast on radio and television, both nationally and internationally. Particular highlights have been televised performances on the international cultural channel ARTE of Michael Haydn's Requiem in 2006 and Einojuhani Rautavaara's Vigilia in 2013.
The Helsinki Chamber Choir's recording of Magnus Lindberg's Graffiti (with the Finnish Radio Symphony Orchestra and Sakari Oramo) was nominated for a Grammy in the contemporary music category in 2010. During its days as the Finnish Radio Chamber Choir, the group recorded a number of CDs for the Ondine label, including Rautavaara's complete works for mixed a cappella choir. The choir's most recent appearance on CD is in the world premiere recording of Veli-Matti Puumala's opera Anna Liisa (to be released in May 2015). A number of other recordings will appear in the near future.
Since 2012 the Helsinki Chamber Choir has been a member of Tenso, the association of European professional chamber choirs.
The Finnish Radio Chamber Choir's principal conductors were Harald Andersén, Kaj-Erik Gustafsson, Ilmo Riihimäki, Eric-Olof Söderström and Timo Nuoranne. Alongside Nils Schweckendiek, in recent years the choir has worked with conductors including Kaspars Putnins, Fredrik Malmberg, Eric-Olof Söderström, Andres Mustonen, Olari Elts, Rachid Safir, Tim Brown, Anne Azéma, Aapo Häkkinen, James Wood and Rinaldo Alessandrini.
For more information or to purchase tickets, contact Michigan Tech Ticketing Services at the Central Ticket Office (SDC), at 906-487-2073, or go online at rozsa.mtu.edu.
By Bethany Jones