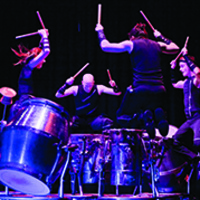 Scrap Arts Music, Canadian-born and globally enjoyed, has performed in more than fifteen countries on five continents for audiences of all backgrounds, with a family-friendly presentation of music and movement. Innovation. Energy. Rhythm.
If you're looking for a feel-good, adrenaline-packed experience—look no further. Take some scrap, transform it through the arts with welding, sculpture and choreography, and then—with five extraordinary and athletic percussionists—create beautiful music. The result? Musical works that are intricate, playful and powerful, and that delight the eyes and the ears.
The Rozsa Center is proud to present the US debut of their latest production, new in 2018, "Children of Metropolis," at 7:30 p.m. Wednesday, March 28.
Scrap Arts Music is deeply rooted in an eco-friendly sensibility: all their instruments are hand- made from industrial scraps. Often compared to STOMP and Blue Man Group, Scrap Arts Music's philosophy is a bit different—they insist on building full-blown artistic instruments from literal pieces of scrap. Each instrument is a one-of-a-kind creation that doubles as both music-maker and artistic sculpture.
High energy original choreography makes artistic director and instrument maker Gregory Kozak's nuanced compositions powerfully come to life—performed with passion by Scrap Arts Music's five award-winning multi-instrumentalists. Each production is a rich blend of serious, sophisticated ensemble percussion music paired with humorous moments that fill theaters with laughter.
Tickets for Scrap Arts: "Children of Metropolis" at the Rozsa Center are on sale now, $22 for adults, $10 for youth and no charge for Michigan Tech students with the Experience Tech fee.
Tickets are available by phone at 7-2073, online, in person at the Central Ticketing Office in the Student Development Complex or at the Rozsa box office the night of the show. Please note that the Rozsa box office opens only two hours before performances.