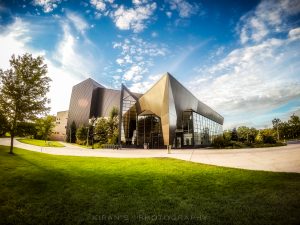 Michigan Tech's Rozsa Center for the Performing Arts has been named one of the best university performing arts centers in America.
The 1,067-seat venue was among "The 35 Best University Performing Arts Centers in the US" as chosen by the website ClickitTicket.com.
The centers were listed alphabetically and not ranked in any particular order.
In listing the Rozsa, the website said, "This awe-inspiring facility schedules performances by both national and University performers in the mediums of dance, theatre, music and film."
The venue's ability to withstand harsh Keweenaw winters did not escape notice. "This 80,000 square-foot facility might be the toughest building on our list. Its roof can hold 450 pounds of snow per square foot."
The listing also includes a photograph of a "Backstage at the Rozsa" performance. The Rozsa Center was the only university performing arts center in Michigan to make the ClickitTicket list.